The eating disorder you may have and not even realize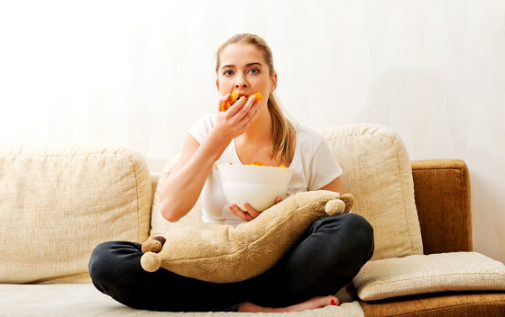 It's Friday night, and you've had a long, stressful week. You order a large pizza for one and take out a sleeve of thin mints from the freezer while binge-watching your favorite Netflix show.
Afterwards, you feel terrible for consuming such large quantities of food in one evening. The thought crosses your mind- is this normal, or could you suffer from binge eating disorder?
Binge eating disorder (BED) is the most common eating disorder in the United States, according to the National Eating Disorders Association. The condition is severe and life-threatening, but it is treatable. Those who suffer from this disorder eat large quantities of food very quickly and to the point of discomfort. During the binge, they feel a loss of control, shame and guilt afterwards. It is important to note that binge eating disorder does not include purging, such as bulimia.
"Patients who are diagnosed with binge eating disorder often describe the episode as eating more rapidly than normal and being in a 'zone' that's very difficult to interrupt," says Sarah Katula, advanced practice nurse in psychiatry at Advocate Good Samaritan Hospital in Downers Grove, Ill. "They will often binge and then say to themselves 'I'll be good tomorrow,' or 'I'll restrict tomorrow,' and the cycle is set up to repeat itself. These patients often have a very poor relationship with their own bodies and with food."
"There are a lot of reasons why someone could develop the disorder from depression and low self-esteem to biological abnormalities such as a hormonal irregularity or genetic mutation that is associated with compulsive eating. Those who have a previous history of a different eating disorder, such as anorexia, could be susceptible to developing the disorder as well," she says.
Katula suggests answering the following questions to determine if you have binge eating disorder:
During a binge, do you eat much more quickly than normal?
Do you eat until you are uncomfortably full or even in severe pain?
Do you eat large quantities of food even when you aren't hungry?
Do you feel shame or embarrassed after eating?
Do you sneak food or eat alone because you are embarrassed by what and how much you are consuming?
Do you feel out of control when you eat?
If you answered yes to three of those questions and binge at least once a week for three months, Katula suggests seeking help from a mental health professional who has training in eating disorders. The professional can properly diagnose the disorder and offer therapy and even medication as a form of treatment.
Eating disorders, including binge eating, can lead to serious health problems such as obesity, Type 2 diabetes, high blood pressure, heart disease, increased risk of certain cancers, gastrointestinal conditions and depression, according to the National Institute of Mental Health.
Related Posts
Comments
About the Author
Johnna Kelly, healthe news contributor, is a manager of public affairs and marketing at Advocate Christ Medical Center in Oak Lawn. She is a former newspaper reporter and spent nearly 10 years as a public relations professional working for state and county government. During her time as a communications staffer for the Illinois General Assembly, she was integral in drafting and passing legislation creating Andrea's Law, the nation's first murderer registry. In her spare time, she volunteers at a local homeless shelter, enjoys traveling, photography and watching the Chicago Bulls.