4 days and functioning after a hip replacement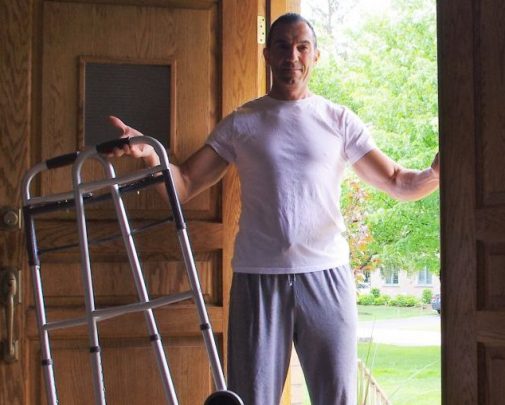 Being a former college athlete, it was a natural choice for me to go into my line of work as a fitness/personal trainer and gym owner. I've been fortunate enough to develop a career that has spanned over 25 years (and counting.) I have always been in tune with my body, but given the physical nature of both my work and personal life, it's normal to have wear and tear. About 10 years ago, I started noticing a discomfort in both of my hips. Being used to soreness and post-workout recovery, I just ignored it, made slight adjustments in my workouts and daily routine and proceeded with life as usual.
Skip ahead to the beginning of this year, and that discomfort I had over the years gradually changed to a high level of pain, which became difficult to ignore. After a few doctor visits, several x-rays and a severe osteoarthritis diagnosis for both hips, the decision whether to have my hips replaced became first and foremost in my mind and led me to Dr. Ritesh Shah at Advocate Lutheran General Hospital in Park Ridge, Ill.
Naturally, my number one concern was the post-surgery down time and how long my recovery would keep me out of work.  With living expenses and two approaching college tuitions, an extended absence from my job was out of the question. I also had significant concerns about a lengthy break from my workouts and from the many physical aspects of my everyday life. In addition to that, there was always the worry of risks that go along with any major surgery, which made the decision to proceed with my left hip arthroplasty a difficult one.
If I only knew then what I know now…
Let me put it this way: The decision to have my right (other) hip replaced in two months was one of the easiest decisions I've ever made.
My journey
I decided to document my recovery in a video diary highlighting the first 14 days after my surgery. I wanted to have a truthful and honest record of the highs and lows post-surgery, both as a personal reminder for myself and for those who might be considering joint replacement surgery.
Within a matter of hours after the surgery, I was walking without the help of someone else. The next day, I was climbing stairs. And I was back at my labor-intensive job full time in four days. By day ten, I was even shooting hoops with my son.
I expected to recover quickly, but even I was surprised at how easy it was. In fact, I was relatively pain-free the whole time. I chose to go easy on the pain medication, and even without it, the pain level could only be described as minimal – that doesn't mean there wasn't some discomfort.
Engaged in my care
I personally attribute my very quick recovery to a few factors:
The skill and training of the medical staff at Advocate Health Care, in particular, Dr. Ritesh Shah.
My pre-surgery preparation and post-surgery rehab.
My good physical condition and positive mental attitude.
My willingness to get up and move right away.
I would like to say to all those considering or debating a hip replacement that my experience was nothing short of excellent.
Would I do it all again? Absolutely! And I plan on it. My right hip replacement surgery is in just two months. I just wish I would have done it sooner!
Watch my journey below.
Related Posts
Comments
About the Author
Goran Mladenovic is a 52 years old husband, father of two and owner and head personal trainer at his gym in Glenview, Illinois. On April 25th, 2017, he underwent surgery for a complete left hip replacement.