Diagnosed with cancer? How to find balance in your life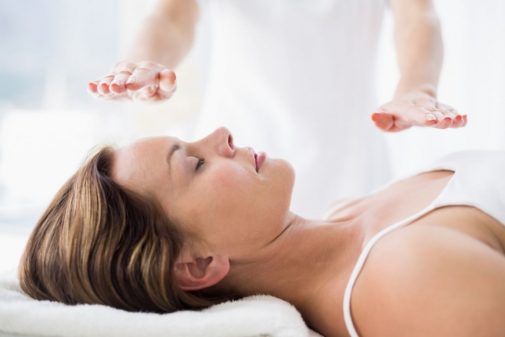 I've been in the field of health and healing for more than a decade. I am a certified Reiki Master Teacher and focus my practice and teaching on the authentic Japanese style of Reiki. I have a particular passion for working with people who have chronic pain/health issues and are looking for a new way to bring healing and balance back to their lives. As a volunteer in the Cancer Resource Center at Advocate Condell Medical Center in Libertyville, Ill., I have the ongoing honor of offering Reiki to those with a cancer diagnosis.
What is Reiki?
Reiki is a gentle but powerful Japanese healing system rooted in love, compassion and kindness. Founded in Japan by Usui Mikao in the latter half of the 19th century, Reiki translated means "spiritual energy." It is the energy or "Ki" inside and outside of us. It is the energy the universe is made of and is available to each one of us. So, you may be asking yourself, "why do I need something I already have?"
Imagine a beautiful free and flowing river. Now imagine over time that pebbles and rocks begin to accumulate, impacting the flow of that river. These pebbles and rocks represent your worries, fears, frustrations, disappointments, anger, etc. Over time, if these pebbles and rocks aren't cleared away, that free and flowing river – or your energetic system – becomes congested and starts to manifest physical, mental, emotional and spiritual challenges. Your energetic system is a bit like your circulatory system. Sometimes it needs maintenance to stay free and clear. Reiki washes out your energetic system, clearing away stagnation and blocks, bringing balance back to body, mind and spirit. This, in turn, creates the best opportunity for healing.
What are the benefits of Reiki?
As a Reiki practitioner, I have seen headaches disappear, aches and pain subside and stress levels plummet from a 10 to a 1. I have observed people who have insomnia fall into very deep sleep during their session. I have heard the voice of confusion turn into the voice of clarity. I have watched the faces of worry, tension and anger give way to peace and tranquility. The benefits are plentiful. However, the most profound benefit I have witnessed is the deep personal insights that people sometimes gain on the Reiki table that can transform a life. For example, I had a patient who sat straight up during the middle of her session and declared that the forgiveness she was looking for all these years was forgiveness from herself. Reiki simply supported her journey and provided a vehicle for those insights to come up and out. This is a reminder that healing is about becoming whole again, and that is really the essence of what Reiki is all about.
What happens during a Reiki session?
If you were to visit me for a Reiki session, we would have a dialogue about any questions or concerns you might have. I would check in with you about your stress level and any areas of physical discomfort. I would ask if you had any goals for your session.
You would then be instructed to remove your shoes but stay fully clothed. You would have a choice of having your session lying down on a massage table or sitting in a chair.
To begin, I would have you connect to your breath and start the process of relaxation. Then, I would lightly place my hands on or above your body in different locations using my knowledge of the Japanese Reiki System as well as my intuition. Of course, all private areas of the body are avoided.
During the session, you may have a variety of feelings. Some people feel energetic sensations while others may see colors. It is not unusual to have a release of emotions. Most often, people describe a deep sense of relaxation and a feeling of being refreshed. It is important to remember there is no right or wrong experience.
After the session, we would de-brief together, allowing you the opportunity to process your personal experience. I would offer any insights or strategies tailored to your personal needs. My goal is to always meet you where you are and help you to connect back to that place of peace – even in the midst of challenging life circumstances.
I would love to see you on my Reiki table! If you have a cancer diagnosis, you qualify for Reiki sessions at no cost through the Cancer Resource Center at Condell Medical Center. Please call 1.800.3.ADVOCATE to book your appointment, or you can make an appointment online.
Related Posts
Comments
About the Author
Donna has been in the field of health and healing for over a decade and is passionate about supporting the healing process; body, mind, and spirit. In her Reiki practice, she has an interest in working with people who have chronic health issues and are looking for a new way to bring healing and balance back to their lives. Donna is a Reiki Master Teacher and Certified Life Coach. She completed Reiki Certification, level 1 & 2 in 2012 and received her Master's Certification in 2015. Donna continues her Reiki education and recently completed Usui Reiki Ryoho Shinpiden training with a focus on the authentic and traditional Japanese Art of Reiki. Her Coaching Certificate was obtained through The Coaches Training Institute and the Guiding Mindful Change organization. She holds an Instructor Certification in Holistic Stress Management from the National Wellness Institute. She has a B.A in Psychology. Donna is a lifelong learner and continues to study traditional Japanese Reiki and other holistic healing methods. In her experience working with cancer patients, she consistently witnesses how Reiki helps to manage stress, control anxiety, and reduce pain. These positive outcomes continue to motivate her to educate her clients and healthcare professionals on the benefits of integrating energy medicine as part of a daily wellness plan. Donna's strength is to encourage her clients to choose a powerful perspective around life challenges and connect back to spirit. Her expertise in both Reiki and Life Coaching allow her to navigate her client's energy and psyche in a unique and productive way.