Pregnant? This app could save your baby's life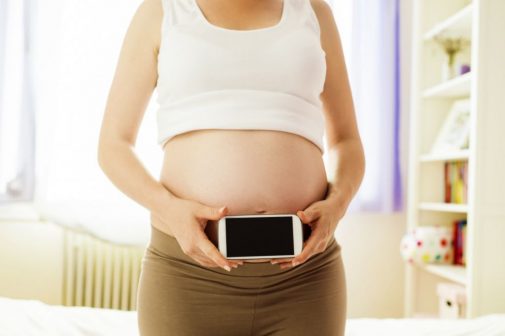 The Count the Kicks app for moms is not a game – it's designed to save lives.
In the last three months of pregnancy, a lack of activity can signal distress or severe complications for the baby. Women in their third trimester are encouraged to measure how long it takes them to feel 10 kicks. Yet moms-to-be are often busy, and if they are not keeping track, may not notice if their baby becomes less active.
The Count the Kicks program was created by five Iowa women who all suffered stillbirths. The program offers a free downloadable app for Apple and Android phones to help mothers easily keep track of their results.
"One of the most important things a woman can do in the third trimester of pregnancy is to be aware of her baby's normal fetal movement," said Dr. Karishma Rai, a maternal fetal medicine physician at Advocate Christ Medical Center in Oak Lawn, Ill. "Using an app to remind a busy mom to track daily movements can be very helpful. Decreased fetal movement is one sign that a baby may need special intervention or delivery."
According to the U.S. Centers for Disease Control and Prevention, stillbirth is the loss of a baby before or during delivery, generally after 20 weeks of pregnancy. About 24,000 babies are stillborn in the U.S. each year, which affects about one percent of all U.S. pregnancies, the CDC reports.
Emily Price, executive director of the organization, noted in an article in U.S.A. Today that the project is especially popular in Iowa as its founders include Iowa State Senator Janet Petersen of Des Moines, who at nine months pregnant lost her daughter, Grace, to an umbilical cord complication.
"The program's popularity in Iowa may be part of the reason the state has seen a 26 percent decline in stillbirth rates in the last five years, while the rate in the rest of the country has remained steady," Price said.
"If we can reduce the entire country's stillbirth rate by 26 percent, as we've done here in Iowa, we will save more than 6,000 babies every single year," she said. "That's 6,000 families who will have been saved from the heartache of losing their child."
Related Posts
Comments
About the Author
Kate Eller was a regional director of public affairs and marketing operations for Advocate Health Care. She enjoys road trips, dogs, minimalism, yoga, hiking, and "urban hiking."