6 protein-packed meals you'll want to add to your diet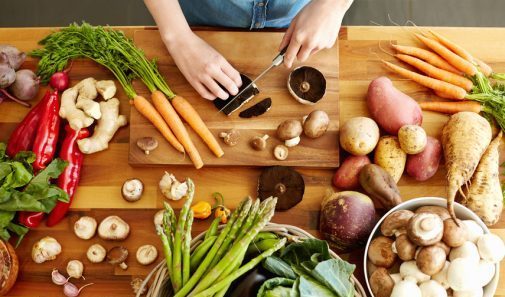 We all know summer is the time people are concerned with bikini bodies. But don't put your health at risk by cutting out the wrong foods. Protein is the building block of muscle, and it should never be sacrificed when dieting.
According to Harvard School of Public Health, if you are a woman over 19 years old, you should plan to consume 46 grams of protein. For men, make it 56 grams daily.
Caitlin Beranek, registered dietitian at Advocate Condell Medical Center in Libertyville, Ill., agrees that there are many benefits to incorporating protein into your diet.
"Protein is necessary for tissue growth, repair and energy," she says. "Protein can also increase your feeling of fullness and help stabilize blood sugar."
If you are on the hunt for more protein, Caitlin offers the following tips:
Try to eat more lean meats like fish, chicken and lean beef
Reduce high fat meats like hot dogs, fatty hamburgers and ribs
Try to incorporate some non-meat protein sources, like beans or quinoa
This summer, make sure you are getting enough protein in your diet by incorporating some of these foods and recipes below into your summer menu.
Quinoa
Quinoa (pronounced KEEN-wah) can be a wonderful way – especially for vegans/vegetarians – to get protein! It requires minimal cook and prep time, and according Nutrition Data, you are getting 8 grams of protein in only 1 cup of cooked quinoa. It is also one of the only non-meat protein sources that contains all 9 essential amino acids. This grain is safe for gluten-free and meat-free diets.
Try this delicious Herby Watermelon Quinoa Salad or this refreshing Southwestern Black Bean, Quinoa and Mango Medley!
Fish
Fish is a perfect source of protein that is also full of many other essential nutrients. The American Heart Association recommends eating fish at least two times per week as part of a healthy diet. Low in fat yet nutrient-rich, fish is a very heart-healthy food and has been shown to help reduce the risk of heart attack or stroke, which are the two most common causes of premature death in the world, according to the World Health Organization.
If you want to incorporate fish into your diet, one delicious method is to make fish tacos. Try these summer recipes for some fish taco lettuce wraps: Fish Taco Lettuce Wraps with Mango Salsa, Fish Taco Recipe (on Lettuce Wraps!).
Chicken
As one of the highest protein suppliers normally found in people's diets, chicken is a very popular choice for meeting protein needs. The USDA claims that for every 100 grams of pure chicken breast, you can expect to get 28 grams of protein. According to OrganicFacts.net, chicken is packed full of these vitamins with the following benefits: vitamin A (to strengthen eyesight), vitamin D (to strengthen bones and aid in calcium absorption) and B vitamins (useful in preventing cataracts and skin disorders, boosting immunity, eliminating weakness, regulating digestion and improving the nervous system, as well as preventing migraines, heart disorders, grey hair, high cholesterol and diabetes.)
So heat up the grill and try these Yummy Honey Chicken Kabobs. And, don't forget to serve with a side of BBQ Chicken Cobb Salad.
Related Posts
Comments
About the Author
health enews staff is a group of experienced writers from our Advocate Aurora Health sites, which also includes freelance or intern writers.