Are you at high risk of developing flu complications?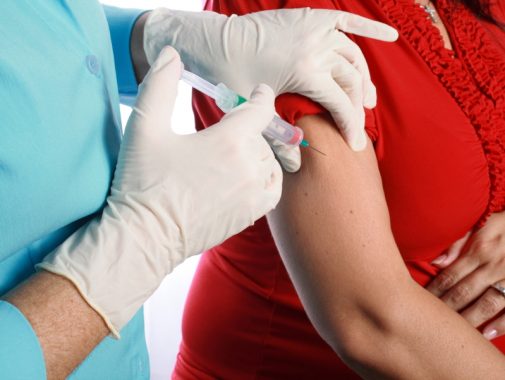 It's that time of year again – flu season.
Each year, thousands of Americans die from the flu or from complications from the flu, and many more are hospitalized. Those at a higher risk for developing complications include:
Adults 65 years and older
Children younger than 5 years
People who have illnesses or conditions such as asthma, heart disease or cancer
Pregnant women
As the flu is highly contagious, a vaccine is the best way to prevent you from becoming infected and infecting those around you. You can receive a flu shot in a variety of convenient settings, including local pharmacies, health fairs, at a primary care physician office and for some, even at the workplace.
As a reminder, if you get a flu shot somewhere other than your doctor's office, it is helpful to let your doctor know so your records are up to date.
The flu vaccine is safe and effective in preventing the flu. It is easy to administer and is typically associated with minimal side effects, such as a sore arm or a low fever, which are temporary. The Centers for Disease Control and Prevention (CDC) keeps track of side effects, and severe reactions to the vaccine are rare. The U.S. Food and Drug Administration approves all vaccines while the CDC continuously monitors.
There are very few conditions noted for which one should not receive the flu vaccine. One is severe allergy to any part of the vaccine, including egg protein. However, an egg-protein-free flu vaccine is available.
As noted, vaccination is important for pregnant women and can be given at any time. Normal bodily changes that occur during pregnancy can make women more susceptible to severe illness, hospitalizations and even death caused by the flu. Other issues that can occur include premature labor and delivery, low birth weight and even stillbirth. More importantly, the vaccine helps your body make antibodies against the flu virus, which can be transferred to the baby. A pregnant woman receiving the flu shot protects herself and her soon-to-be newborn. This is invaluable because infants below six months of age cannot receive the flu vaccine.
While many vaccines contain a small amount of thimerosal, a mercury-containing preservative, all pediatric vaccines have been thimerosal-free for well over 10 years. Thimerosal-containing vaccines do not cause autism in children born to women who received these vaccines. Your health care provider can provide valuable additional information.
Receiving the flu shot is an easy, life-saving way to protect yourself and those at high risk around you.
Dr. Ian Jasenof is an OB/GYN and Dr. Charles Crotteau is a family medicine physician. Both are physicians with Advocate Medical Group.
Related Posts
Comments
About the Author
Dr. Ian Jasenof is an OB/GYN and Dr. Charles Crotteau is a family medicine physician. Both are physicians with Advocate Medical Group.