This place is ironically filled with germs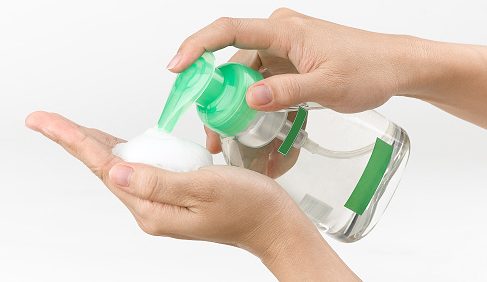 Kids can pick up germs anywhere, from the school bus, to the playground, but one place may come as a surprise to some parents: the doctor's office.
The doctor's office is supposed to be a place where people are cured of their illnesses, not a place where they catch new ones.
But while it's necessary for you to take your children to the doctor from time to time, there are some things you can do to keep them from coming home with something unexpected.
Below is a list of tips to help prevent you and your child from spreading or catching germs next time you are at the doctor's office:
"The single most important thing that can be done is staff and patients washing their hands or using the provided hand sanitizer," says Dr. Aaron Traeger, a pediatrician with Advocate Children's Medical Group in Bloomington, Ill. "If you see your doctor not washing his or her hands before they touch you or your child, please ask them to. It's not rude, but rather good and safe practice."
The American Academy of Pediatrics (AAP) is also urging doctors to take necessary steps to stop the spread of germs in their practices by avoiding toys in their waiting rooms. "Toys in the office are a bad idea. Research shows that having toys in the office is really just spreading around infection," says Dr. Traeger. These toys can harbor germs and be difficult to clean, so avoiding toys in the office can help eliminate this problem.
"No matter how good staff is at wiping the rooms down and cleaning as much as possible, sometimes you just can't anticipate a sick kid chewing on the leg of a chair, and then your child doing the same thing," says Dr. Traeger. "It's hard, we know, but try not to let them put their mouth on things in the office."
The AAP suggests that infection control at doctor's offices should be just as strict as it is in hospitals to keep patients as germ-free as possible. Practices such as enforcing proper cough and sneezing etiquette, requiring staff to get seasonal flu shots and other vaccinations and placing hand sanitizers throughout the office can all help prevent the spread of germs.
Related Posts
Comments
About the Author
Danielle Sisco, health enews contributor, is a recent graduate of Illinois State University and a former public affairs and marketing intern at Advocate Lutheran General Hospital and Advocate BroMenn Medical Center. She has a Bachelor's of Science Degree in public relations and is currently working at a public relations agency in Chicago. In her free time, Danielle enjoys going to country music concerts, playing volleyball, traveling, blogging and spending quality time with her family, friends and puppy.