The truth about "stiff" backs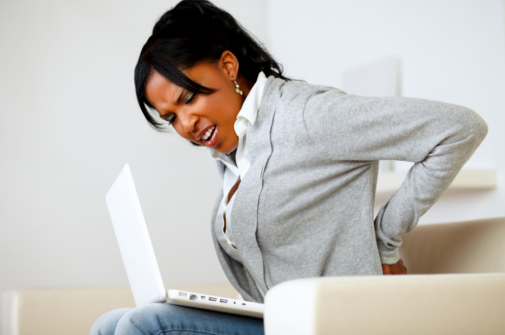 What does it mean when someone says they have a stiff back?
Unfortunately, probably not the same thing for a patient as it does to their doctor, according to a new study from the University of Alberta's Faculty of Rehabilitation Medicine.
The study asked participants to rate how "stiff" their backs felt to them, then used a device to measure its actual biomechanical stiffness. Interestingly, researchers found no relation between the reported feeling and reality of stiffness.
The study argues that people perceive this feeling as a "protective perceptual construct" – something the body does naturally if it believes itself to be injured. Essentially, humans assume what our bodies feel reflects the actual, biological state of our body, especially when those feelings are pain or stiffness.
In some instances, the study argues, our brains can be overprotective.
That's not to say there aren't legitimate causes for stiffness and pain, says Dr. Kurt Heinking, osteopathic medicine doctor at Advocate Good Samaritan Hospital in Downers Grove, Ill., and osteopathic manipulation chair at Midwestern University.
Dr. Heinking says all his diagnoses are rooted in a thorough examination, tests, diagnostic imaging and medical past.
"Back stiffness can be due to many different factors," he says. "Genetics, posture and osteoarthritis are common culprits; however, the evaluation always begins with a thorough history."
While that stiffness could be the body trying to stabilize an injury, it could also be caused by muscle tension, rheumatoid arthritis, joint inflammation, lack of mobility or even high stress. He suggests patients try to describe their stiffness or pain in multiple different ways to their health care provider, including what alleviates symptoms and makes it worse.
Only physicians, in cooperation with the patient, can determine what the problem is and how best to treat it.
Ultimately, it comes down to being on the same page, Dr. Heinking says.
"Clear communication between doctors and patients is of paramount importance," he says. "Sometimes words and phrases have different meanings to different people. Asking the patient to restate what their thoughts are regarding their diagnosis is a good way to check his or her understanding. Patients can ask the same of their physician to make sure that they clearly understand what their problem truly is."
In the meantime, Heinking had some suggestions to relieve and prevent back pain and stiffness in the first place:
Limit the amount of time you are seated – try alternating with standing
Put a rolled up towel or foam roll behind the small of your back to help you sit straight
Be sure your car seat is adjusted properly
If carrying a heavy object, hold it close to your body and use your legs when lifting
When exercising, be sure to keep your abdominal core muscles strong and work on hip and leg flexibility
Stay active and try to manage your stress
Does your back or neck hurt? Take our Back and Neck Pain Assessment and receive recommendations on what to do next based on your results.
Related Posts
Comments
About the Author
Nathan Lurz, health enews contributor, is a public affairs coordinator at Advocate Good Samaritan Hospital. He has nearly a decade of professional news experience as a reporter and editor, and a lifetime of experience as an enthusiastic learner. On the side, he enjoys writing even more, tabletop games, reading, running and explaining that his dog is actually the cutest dog, not yours, sorry.