When it comes to tackling this disease, it takes a team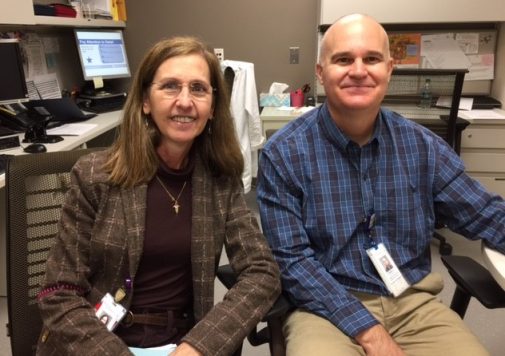 Robert Carrara and Robin Roth should be known as the Dynamic Duo of Diabetes Care.
Carrara, a registered dietitian and diabetes educator, and Roth, a registered nurse and diabetes educator, work in the Health Management Center at Advocate Good Shepherd Hospital in Barrington, Ill.
With a physician referral, a patient will come to them seeking support for managing their Type 2 diabetes. That's when this tag team kicks in, embracing a comprehensive strategy to get the disease under control.
"We cover different content, but we work together. We are reinforcing the same message," Carrara says. "We really work as a team with the patient and their physician. This team approach works best."
The patient sees Roth first. She is the expert on what's going on inside the body. More specifically, she explains that the body of a person with Type 2 diabetes isn't turning food into fuel for energy properly either because it can't make enough insulin or can't efficiently use the insulin it's producing. She provides a diabetes overview and digs into some of the physical and emotional components of the disease.
"I try to teach them the 'why' behind what's going on. For example, why the food they're eating makes their blood sugar go up," Roth explains. "I connect the dots."
Together, Roth and the patient consider these seven content goal-setting areas:
Healthy eating
Active living
Monitoring (such as blood glucose levels)
Medication intake
Problem solving
Healthy coping
Risk reduction
Next, it's Carrara's turn. He focuses more sharply on the nutritional aspects of diabetes care and how patients can help manage their Type 2 diabetes by eating – and not eating – certain foods.
Years ago, someone in Carrara's position most likely would have handed a patient a diet with a list of foods to eat and foods to avoid. Today, the relationship between dietitian and patient is much more collaborative. The patient needs to be part of the meal planning process; otherwise, he or she probably won't stick with it. Diabetes experts have realized the "I know what's best for you" approach simply doesn't cut it. Instead, they aim to negotiate.
"It's not going to work if it's me telling them what to do. It's better if it's their idea," Carrara says. "The patient and I will put together specific ideas for eating at home and for dining out. I listen, and then we come up with a plan that works for them."
Together, Carrara and Roth have a single goal: to help Type 2 diabetes patients get a grip on their health.
"When they are making changes in their diet, changes in their lifestyle and changes in the amount of exercise they are getting, these are things they are doing to take more and more control over their health," Carrara says.
Follow-ups are recommended at one month, three months and six months after the initial consultation. By six months, the behavioral changes have had an opportunity to take root.
Patients also may attend three-day group diabetes education classes offered monthly by Carrara, Roth and an instructor from Good Shepherd Hospital's Health and Fitness Center. During each two-hour session, they focus on different components of diabetes management. Participants learn not only from the professional experts, but from each other, as well.
"We hear it all the time. Someone will say, 'That happened to me. Here's what I did.' There's a great deal of camaraderie that goes on," Carrara says. "Our patients provide support for each other."
Are you at risk of developing diabetes? Learn by taking our Diabetes Risk Assessment.
Related Posts
Comments
About the Author
Kathleen Troher, health enews contributor, is manager of public affairs and marketing at Advocate Good Sheperd Hospital in Barrington. She has more than 20 years of journalism experience, with her primary focus in the newspaper and magazine industry. Kathleen graduated from Columbia College in Chicago, earning her degree in journalism with an emphasis on science writing and broadcasting. She loves to travel with her husband, Ross. They share their home with a sweet Samoyed named Maggie.