Josie is smiling. She's finally home.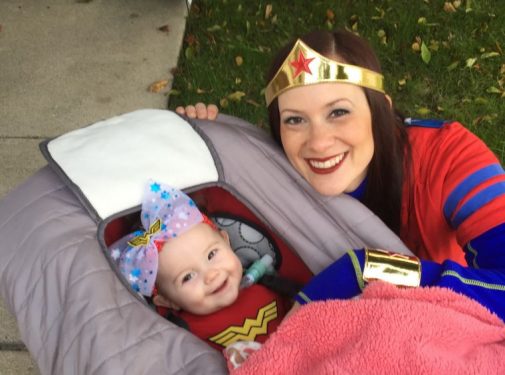 Josie is at home, with her mom, dad and little brother, Robbie. And, that is a really big deal.
This little Wonder Woman has quite a story to tell.
That's because this precious little girl spent six of the first seven months of her life in the hospital—leaving only once, to return again quickly. Born five weeks prematurely, Josie began experiencing respiratory problems. Her condition continued to decline. A screening found that the carbon dioxide levels in her system were alarmingly high.
"Josie has congenital central hypoventilation syndrome, or CCHS," says Dr. Shimoni Dharia, a pediatric pulmonologist at Advocate Children's Hospital. "It is a genetic, life-threatening disorder that results in a child not breathing while sleeping. The condition is very, very rare. There are only 1,200 cases in the entire world."
To help Josie breathe, she had to get a tracheostomy. It is a small incision in her windpipe creating an alternative airway for breathing. It hasn't stopped Josie from thriving. After a stay in the pediatric intensive care unit, where she was called the "PICU Princess" because of her stylish outfits, and another brief stay in a transitional care facility, Josie is home with her family for the very first time.
"She doesn't know anything different," says Laura Brown, Josie's mom. "She is our superstar; she amazes us every day. There are no words to describe her rough start; she has already taught us so much. Despite all of her challenges, Josie is always smiling, laughing and happy."
"Josie has a smile worth a million dollars," adds Dr. Dharia. "She has made amazing progress. It's because her parents have been phenomenal, making sure she is meeting milestones and keeping up cognitively with other children her age."
"We are hoping that as Josie gets older, we will be able to wean her off the ventilator," says Dr. Ousama Dallal, a neonatologist at Advocate Children's Hospital, who sees Josie for follow-up. "Her condition does put her at higher risk for other health issues, and we are monitoring her closely."
"Josie has changed our world," says Laura Brown. "She is our warrior. We are so blessed to have her in our lives."
Related Posts
Comments
About the Author
Evonne Woloshyn, health enews contributor, is director of public affairs at Advocate Children's Hospital. Evonne began her career as an anchor and reporter in broadcast news. Over the past 20 years, she has worked in health care marketing in both Ohio and Illinois. Evonne loves to travel, spend time with family and is an avid Pittsburgh Steelers fan!