No Olympic talent? No problem: These winter activities make for a great workout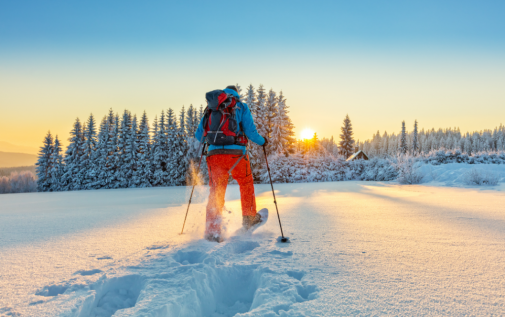 The Winter Olympics can be a great motivator to get out and get going with some winter sports and activities.
But, hurtling down a mountain at 80 mph or bouncing off of moguls like a super ball probably isn't what the average person is looking for on a free weekend afternoon.
There are some lower intensity and less risky winter sports that can give you many of the health and wellness benefits of popular Olympic sports without the years of training and dedication. These low-impact activities spare your joints from the pounding of many sports, while providing an efficient and enjoyable cold-weather workout.
Cross country skiing
One Olympic sport that may appeal to the weekend warrior and less-than-extreme athlete is cross country skiing. Low-impact and relatively risk-free, cross country skiing is a great way to benefit from a generous snowfall, says Nikka Jajko, a nurse practitioner at the Advocate Medical Group Spine Care Center in Downers Grove, Ill.
"Cross country skiing is a great workout because it combines upper and lower body muscles, pushing and pulling muscles and core muscles to help with balance and coordination," says Jajko. "It's a great cardiovascular workout that can be sustained for extended periods of time."
Recreational cross country skiers expend about 500 calories per hour, at a moderate effort level. And, for those looking to kick it up a notch, skiing uphill at a brisk pace can burn more than 1,000 calories in an hour.
Snowshoeing
Snowshoeing is another very accessible and beneficial activity for those folks looking for some snow-based sport. Jajko says it may very well be the best "value" in winter workouts for almost any age.
"Snowshoeing is a safe, low-cost, easy to learn, fun way to get out and get moving," she says. "It builds lower body strength, is a great cardiovascular workout and burns a lot of calories."
Studies conducted by Ball State University and the University of Vermont show that snowshoers can expend between 400-1,000 calories per hour. And, snowshoeing can burn calories at up to twice the rate of walking at the same pace.
Nordic Walking
Not everyone has heard of nordic walking, but it just might be the perfect pursuit for those looking to ramp up their outdoor workouts and exploration with, or without, snow involved.
Nordic walking is a more fitness-oriented version of standard walking. Nordic walkers use trekking poles, similar to ski poles, to help maintain their balance and move more quickly (think cross country skiing without skis). The poles and modified striding technique make nordic walking more of an all-body workout when compared with more traditional walking.
As an overall exercise and calorie-burner, nordic walking stacks up very well against cross country skiing, in Jajko's opinion.
"It may not be as popular as other activities, but nordic walking makes a lot of sense for people looking to get out and get moving any time of the year," says Jajko. "The big advantage in the winter is that walking will get you places that skis just can't."
Sledding and Tubing
For those looking for a tamer version of some of the downhills sports such as luge or skeleton, sledding or snow tubing might fit the bill. While many may consider sledding and tubing strictly kids' stuff, hitting the hills can be lots of fun and great exercise for willing and able adults.
"Sledding and tubing can be very effective exercise, going up and coming down," Jajko says. "You use multiple muscle groups to stay on and steer a sled or tube, and walking back up the hill is a very good cardio and lower body workout."
Sledding and snow tubing can burn up to 240 calories per hour. And, if you are looking to up the exercise ante on the sledding hill, Jajko recommends walking up the hill sideways, backwards and forwards. This will work muscles at different angles, increasing strength, endurance and calorie burn.
Related Posts
Comments
About the Author
Nate Llewellyn, health enews contributor, is a manager of public affairs at Advocate Medical Group. Nate began his career as a journalist and builds daily on his nearly 20 years of writing experience. He spends most of his free time following his wife to their two sons' various activities.