Are you stronger than this bacteria?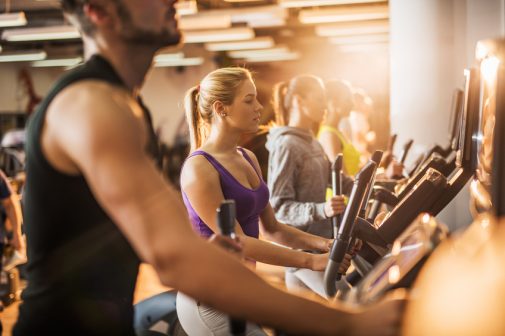 As we try to stick with our New Year's resolutions, many of us are putting down the sweets and making our way to the gym.
We think we're getting healthier, but are we really?
According to a study by FitRated.com, gym dumbbells have approximately 362 times more bacteria than a toilet seat. The study gathered bacteria samples from 27 different pieces of equipment at three different gyms. While only three gyms were sampled, which isn't exactly an in-depth study, it still pauses us to question – how dirty are gyms?
What can we be doing to avoid the germs that may be there? Are they dirtier than other public places?
Denis Gelumbauskas, an Advocate Nurse and epidemiology coordinator at Advocate Christ Medical Center and Advocate Children's Hospital in Oak Lawn, Ill. offers his top five ways to avoid germs at the gym:
Wipe down equipment, and wash your hands frequently
Most people only think of wiping down machines, but think about how many people also handle equipment like free weights, exercise mats and boxing bags. Reduce your chances of encountering other people's sweat and germs by not only wiping down equipment, but washing your hands after touching any of it. Similarly to when touching any public surface, you should also avoid touching your nose, mouth and eyes before washing your hands.
Bring it from home
Any time you have the chance to bring your own equipment from home, do so. This can include water bottles, towels and exercise mats. Did you know many gyms use the same hampers to transport dirty and clean towels?
Keep away from gym showers
It's not always an option to shower at home, but if you have the time, then you should. While it's important to shower sooner rather than later to avoid breakouts, gym showers are full of germs and bacteria commonly known for causing infections like athlete's foot and warts. If you do have to shower in the gym, make sure to wear flip flops or shower shoes and avoid sitting on the locker room bench naked.
Cover up open wounds
If you have any cuts or wounds – especially on your hands, make sure to cover them up with a bandage and antibiotic ointment. This will prevent germs and unwanted bacteria from entering your body through wounds.
Watch out for the pool
If your gym doesn't have a posting as to when the pool was cleaned last and what the pH level is, you should probably be weary before jumping in. The stronger the scent of Chlorine is, the dirtier the pool most likely is. Even if the pool is clean, wear goggles and a swim cap to prevent infection.
According to the Centers for Disease Control and Prevention (CDC), common colds are the main reason children miss school and adults miss work each year, with millions of cases reported in the U.S.
The CDC says viruses that cause colds typically spread through the air and personal contact. You can even get infected from stool or skin infections just by shaking hands with someone or touching a doorknob that's come in contact with the disease and then touching your eyes, mouth or nose.
"It's important to practice good hygiene and common cold prevention no matter if you go to the gym or not," says Gelumbauskas. "Regularly washing your hands, avoiding touching your face and keeping your distance from those who appear sick are all everyday ways you can avoid common illnesses."
Related Posts
Comments
About the Author
health enews staff is a group of experienced writers from our Advocate Aurora Health sites, which also includes freelance or intern writers.