"Convenient" radiation therapy?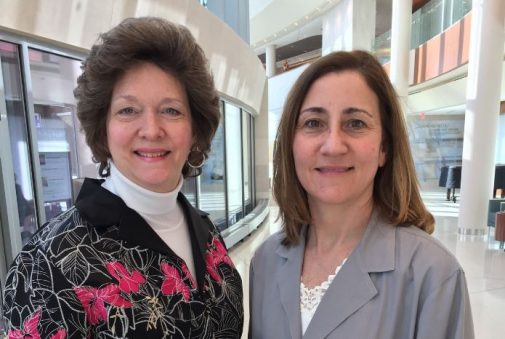 "Convenient" is not a word Joanna Mates uses to describe her breast cancer, but it's exactly how she describes the radiation therapy she received to treat it.
"I was so impressed that they could get all of this done in one day," Mates says. "It was very convenient."
After Mates was diagnosed with breast cancer earlier this year, she discussed treatment options with her surgeon, Dr. Gia Compagnoni of Advocate Good Shepherd Hospital in Barrington, Ill. Lumpectomy was recommended, and because her cancer was in a very early stage, Mates could consider a form of radiation known as Intraoperative Radiation Therapy (IORT).
Standard breast radiation treatment for lumpectomy patients is administered five times a week for up to seven weeks after surgery. It can be difficult for patients to carve out that much time from their work schedules or family responsibilities, and side effects such as skin redness or peeling can occur, along with exposure to healthy tissue.
But with IORT, Mates could complete radiation therapy during breast cancer surgery instead of after surgery. Although Mates is an Intensive Care Unit nurse, she had no idea such an option was available. As soon as she learned she was a candidate, she felt it was right for her.
"I said, 'That's great. Let's get it all done at once,'" Mates says. "If you have the option, how could you not have it done? The lack of side effects, the ease. It wasn't a difficult decision for me."
On the day of Mates' surgery, as soon as Dr. Compagnoni completed the lumpectomy, Dr. Catherine Park, an Advocate Good Shepherd radiation oncologist, delivered targeted radiation therapy directly to the site from which the tumor was removed. The single dose took less than 30 minutes. Then Dr. Stephen Madry performed the first part of breast reconstruction surgery. Having been the first case of the day, Mates was heading home by 5 p.m.
About 15 percent of patients treated with IORT still may need standard radiation, but for shorter time frames. In Mates' case, no additional radiation was needed.
Not all breast cancer patients are candidates for IORT. The best candidates are those with smaller tumors that are diagnosed in the early stages.
Not all hospitals offer IORT. Within Advocate Health Care, the technology is available at Good Shepherd Hospital, where more than 200 patients have been treated, Illinois Masonic Medical Center in Chicago and Christ Medical Center in Oak Lawn. Good Shepherd Hospital has been offering this innovative technology since 2012, performing among the most in the Chicago area.
Dr. Compagnoni says the benefits of IORT make it appealing to patients who are candidates for it. They like the fact that the radiation is targeted to the tumor bed, which spares healthy surrounding tissue and underlying organs such as the heart and lungs. Better cosmetic results are another advantage, as is avoiding the need to return for weeks of treatment.
"Most patients are thrilled to be 'one and done,'" she says.
Advocate Health Care's Breast Health Assessment estimates your five-year and lifetime risk of developing breast cancer.
Related Posts
Comments
About the Author
Kathleen Troher, health enews contributor, is manager of public affairs and marketing at Advocate Good Sheperd Hospital in Barrington. She has more than 20 years of journalism experience, with her primary focus in the newspaper and magazine industry. Kathleen graduated from Columbia College in Chicago, earning her degree in journalism with an emphasis on science writing and broadcasting. She loves to travel with her husband, Ross. They share their home with a sweet Samoyed named Maggie.