How this health care trend is saving you money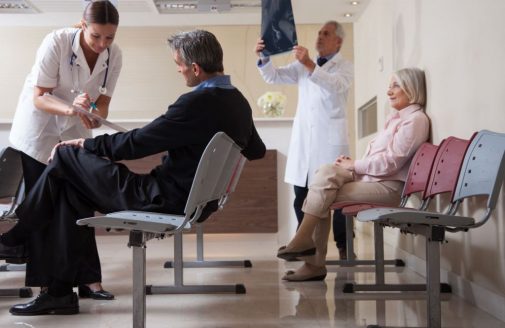 It is estimated that about 10,000 baby boomers will retire each day over the next two decades. Since 2011, well over 20 million have retired, and as this generation ages, their medical needs will continue to expand.
At this rate, the number of new people needing health care is quickly outpacing the number of new physicians trained in the traditional style primary care medicine required to care for these patients. Many people are finding they have acute medical needs but cannot get an appointment to see their doctor for days or even weeks. With acute illness or injury, this is not practical, and consequently, they are faced with having to go to a hospital emergency room or abandon seeking treatment altogether.
This is particularly evident during cold and flu seasons, when offices are overwhelmed with calls for acute visits.
Couple that with increasing costs of medical treatment and simultaneously contracting resources with which to pay for those services, and it's easy to see the bigger problems looming on our horizon.
The health care industry has been screaming for a solution, and we are seeing immediate care centers, or urgent cares, springing up everywhere in this wake. They are rapidly becoming an essential adjunct to the primary care provider and offer a much less expensive alternative resource for patients requiring treatment for non-emergent acute health care issues.
There is one caveat to the immediate care centers; while they are an excellent alternative to the emergency rooms, patients should not use them in lieu of their primary care physicians. The key to good quality, successful health care with the best long-term results hinges on the relationship of the patient with their primary doctor and consistent follow-up with that doctor. Immediate care centers should be used only when patients are unable to see their personal physicians and waiting or going to the emergency room are not viable options.
I currently work at three different Advocate Sherman Hospital Immediate Care sites located in Algonquin, Elgin and South Elgin, Ill., where patients can come for the evaluation and treatment of many acute health-related issues. Hospital-based immediate cares staff experienced physicians trained in either family or internal medicine.
Hospital immediate cares are usually coupled with on-site outpatient services in radiology and lab to help guide our doctors to accurately diagnose and treat illness or injury both quickly and effectively. Sometimes these sites also include additional services in employee health, including the initial evaluation, treatment and follow-up for minor work-related injuries, pre-employment and IDOT physicals.
Below is a list of the many medical and surgical issues for which hospital-based immediate cares can provide treatment for patients:
Upper and lower respiratory tract infections
Ear infections
Urinary tract infections
Asthma flares
Mild dehydration
Some abdominal pain
Minor cuts, abrasions and burns, rashes
Muscular injuries of the neck and back
Initial stabilization of many fractures
Treatment of joint sprains
I would encourage everyone to schedule a visit with a primary care physician to help you be preventative and have an expert monitoring your health. Know where the closest hospital-based immediate cares and hospital emergency departments are located for the convenience and safety of your family, friends and co-workers. Plus, do not hesitate to call 911 in a serious emergency.
Dr. John Lanciloti is the Assistant Medical Director in three Advocate Sherman Hospital immediate care locations in Algonquin, Elgin and South Elgin, Ill.
Related Posts
Comments
About the Author
Dr. John Lanciloti received his undergraduate degree in 1992 from Knox College in Galesburg, Ill. and his medical degree from Rush University in Chicago in 1997. He was trained in Family Medicine at Broadlawns Medical Center in Des Moines, Iowa and subsequently practiced traditional Family Medicine in Moline, Ill. from 2000 through 2009. In 2010, he moved to Roselle, Ill. and now practices exclusively as the Assistant Medical Director in the three Advocate Sherman Hospital immediate cares located in Algonquin, Elgin and South Elgin.