Have you heard of the fourth trimester?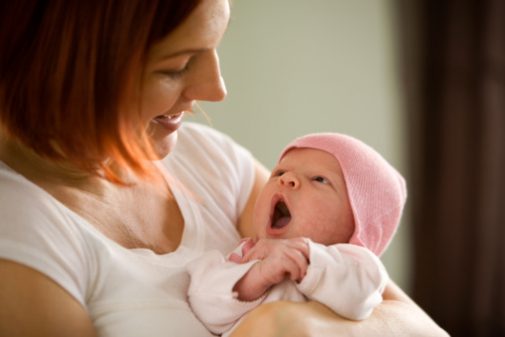 Earlier, more frequent and more individualized care for new moms are among the hallmarks of new recommendations from the American College of Obstetricians and Gynecologists.
The organization, which sets standards of care for OB-GYNs in the U.S., recently released a committee opinion on Optimizing Postpartum Care. Previously, the group recommended a comprehensive postpartum visit within the first six weeks after a woman gives birth. The new guidelines stress that postpartum care should become an ongoing process, rather than a single encounter, with services and support tailored to each woman's individual needs.
All women ideally should have contact with a maternal care provider within the first three weeks postpartum, according to the committee, and the initial assessment should be followed up with ongoing care as needed, concluding with a comprehensive postpartum visit no later than 12 weeks after birth. That comprehensive visit should include a full assessment of the new mom's physical, social and psychological well-being.
Dr. Anjali Sawant, an Advocate Medical Group obstetrician and gynecologist at Advocate Good Shepherd Hospital in Barrington, Ill., applauds the new recommendations, which reinforce the notion of a "fourth trimester" of care.
She says that seeing new mothers sooner after they give birth and following up with ongoing care as needed makes sense. Sometimes new moms are reluctant to call with questions, but a visit offers an opportunity for face-to-face dialogue to address concerns before they exacerbate.
"I tell them no question is unimportant," Dr. Sawant says, adding that it's better they ask her rather than seeking answers from potentially unreliable sources.
"With everything online nowadays, women are scaring themselves with what they find," she notes.
Early follow-up with an OB-GYN can have significant benefits for new mothers, Dr. Sawant says. For example, if symptoms of postpartum depression are emerging, diagnosis and treatment can occur sooner. If a new mom is struggling with breastfeeding, she is more likely to receive the support she needs before giving up.
"Most women quit breastfeeding by the second or third week," Dr. Sawant says. "So coming in for follow-up care sooner after delivery rather than later may help with motivation to continue."
Family and friends also play a role in the new recommendations, which is another component of postpartum care that Dr. Sawant stresses with her patients.
"They say it takes a village – that's so true," Dr. Sawant says. "Needing support is okay to acknowledge."
Related Posts
Comments
About the Author
Kathleen Troher, health enews contributor, is manager of public affairs and marketing at Advocate Good Sheperd Hospital in Barrington. She has more than 20 years of journalism experience, with her primary focus in the newspaper and magazine industry. Kathleen graduated from Columbia College in Chicago, earning her degree in journalism with an emphasis on science writing and broadcasting. She loves to travel with her husband, Ross. They share their home with a sweet Samoyed named Maggie.