Man meets doctor and firefighter who saved his life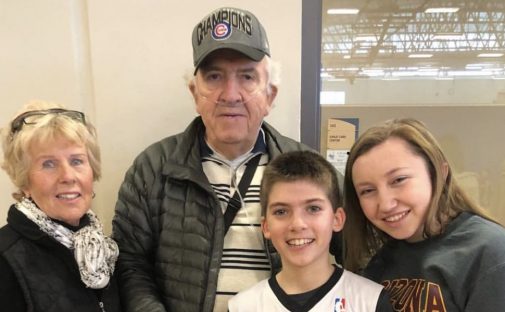 Dr. Yuri Aronov, Chicago firefighter Johnny Zullo and Ron Radosh had never met. That is, unless you count their fateful meeting in March when Dr. Aronov and Zullo, along with two other hockey game attendees, helped save Ron's life when he went into cardiac arrest at the ice rink.
The Sunday afternoon was like any other day, recalls Radosh. He and his wife were visiting their children and grandchildren as they often do when one of them has a big game. This time, they had come to visit from Florida for the Illinois State Championship hockey games for two of their grandsons, ages 14 and 12.
"Both my grandsons are heavily involved in hockey, and the elder has even played in Russia," says Radosh. "They were both playing at a rink in Mount Prospect that day for their respective age groups. One of the games was tied up. I don't remember feeling off in any way when we were watching his game. But my son and I decided to step outside during the break for some fresh air. That's when it happened."
Suddenly, Radosh says it felt like the "blinds were taken down." Everything started to go dark, so Radosh backed against a wall to brace himself from falling and instead slid down the wall. Next thing he remembers, he was waking up in a hospital bed with a tube down his throat.
What happened in those lost hours that preceded his hospital stay likely saved his life.
It just so happens that Dr. Aronov, an anesthesiologist at Advocate Lutheran General Hospital in Park Ridge, Ill., was nearby when Radosh went into cardiac arrest. Dr. Aronov remembers someone shouting his name because a man had collapsed, and they knew he was a doctor. He rushed to Radosh's side alongside another father, who happened to be Chicago firefighter, Johnny Zullo, a 29-year-veteran of the CFD.
Dr. Aronov cleared his airways, and together, they performed CPR for almost 20 minutes while they waited for the paramedics to arrive. Radosh was even shocked with a defibrillator several times, and Dr. Aronov was able to procure an EpiPen to try to start Radosh's heart.
"In these situations, patients have a very low likelihood of survival if they aren't treated immediately," says Dr. Aronov. "Which is why we performed CPR consistently until the paramedics arrived."
Radosh's daughter and hockey team manager, Caryn Behrens, believes they were very lucky that Dr. Aronov and Johnny Zullo were there.
"His heart wasn't beating for a good 30 minutes, so we didn't know what to expect when he woke up," says Behrens. "It was truly the perfect set of circumstances, with them being so close and having professionals who knew what they were doing. If they hadn't done CPR when they did, it could've been a horrific outcome. I don't even like to think about what could have happened. It was a miracle."
Doctors tell Radosh he had a heart attack called a 'widowmaker'. This type of heart attack refers to a 100 percent blockage of one of the major arteries that supplies blood to the heart and is called a widowmaker because it can often be fatal.
But for Radosh, he's back at home feeling great two months later. And he credits passerby for saving his life.
"If they hadn't been there, I would probably be dead," he says. "In fact, I think I was dead for a while since my heart wasn't beating for so long," he says with a laugh. "All jokes aside, I'm so fortunate they were all there. From what I'm told, they jumped into action with no hesitation and were so professional. They saved my life, and here I am today feeling great on the road to recovery. I'm even planning more trips to Chicago to visit my family and grandkids and go watch some more hockey games."
And so with his first trip to Chicago since his heart attack, what's one thing Radosh wanted to do?
"I wanted to meet two of the men that saved my life," he said. "I wanted to say thank you."
Click here to view the video of their first meeting.
Related Posts
Comments
About the Author
Jacqueline Hughes is a former manager, media relations at Advocate Aurora Health. Previously, she was the public affairs and marketing manager at Advocate Lutheran General Hospital in Park Ridge, IL. She earned her BA in psychology at Stanford University in Palo Alto, California. Jackie has 10 plus years experience working in television and media and most recently worked at NBC 5 in Chicago. In her free time, she enjoys swimming, going to the movies and spending time with her family.