Conquering obstacles one at a time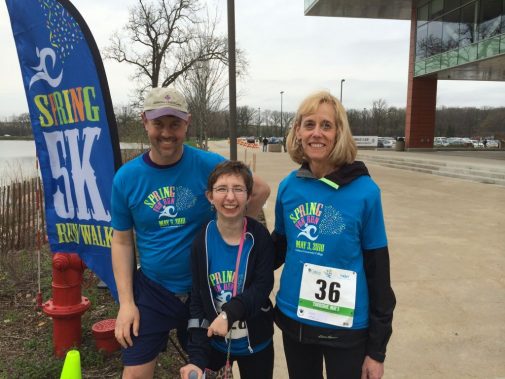 Danielle Rubey has been overcoming obstacles since she was little.
She was diagnosed with leukemia when she was 6 years old, and less than a year later, had a stroke, which left her paralyzed on one side of her body.
But Rubey refuses to let her physical impairments slow her down. In fact, anyone who knows Rubey describes her with one word: determination.
"She's an amazing individual," says Mark Fasick, a physical therapist who's treated Danielle on and off for years at Advocate Lutheran General Hospital's Outpatient Therapy in Des Plaines, Ill. "She's one of those people who never gets down on herself. She's so optimistic and a true fighter. She's determined to keep conquering obstacles – whatever they may be."
And what bigger obstacle than running a 5K for a patient who typically uses a scooter to walk longer distances?
"The first time I decided to do a 5K, I had just had a procedure, and I wanted to see if I could walk," recalls Rubey. "My occupational therapist at Lutheran General, Karey Bourke, accompanied me to the race. I may not have been fast, but I finished!"
Bourke is amazed by Rubey's spirit and perseverance.
"If you watch Danielle walk, you can see she has a difficult time with each step she takes," says Karey Bourke, her occupational therapist since 2014. "She experiences a lot of weakness in both legs along with muscular tightness and has pain and discomfort with her gait. To see her walk in a 5k for the first time was an amazing experience for all of us, but especially for Danielle."
And so a tradition was born. Rubey just finished her third 5K this month with both Karey and Mark by her side, making sure she made it to the finish line.
"Danielle has overcome so many obstacles in her life," says Fasick. "She has physical deficits which we work on in therapy – gait training, for example. We also do a lot of core stabilization work and a technique called 'Forced Use' therapy to help maximize the function of the left side of her body. Her childhood stroke left her paralyzed on the left side, so she's often unsteady and can have difficulty moving. But she's made so much progress, and the 5k speaks to her determination because for her, each step can be a strain."
And for Fasick and Bourke, who've worked with Rubey for years, she has become like family.
"As her occupational therapist for the last four years, I feel like a proud parent watching her progress," says Bourke. "I've gotten to know her grandparents who come to therapy with her often. I've learned about her aspirations. Her journey has been difficult. But she is one determined individual."
So, accompanying her to the race every year has become an annual celebration. A celebration of how far she's come. A way to move beyond the clinic and support their patient in their everyday realities.
"I feel honored that Danielle asked me to come and support her at the annual 5K," says Bourke. "Mark and I took turns walking with her this year and providing her with assistance making sure she was safe and didn't fall. Mark even ran with her in the wheelchair when she needed a rest from walking. The most wonderful part of my job as an occupational therapist is participating in life with my patients."
This year, it was scheduled to rain the day of the race.
Rubey's response to the weather forecast?
"We'll just have to walk it in the rain then," recalls Fasick with a smile. "Danielle even emailed me the day before saying bring your rain gear – we are all walking."
Up next for Rubey? Graduation.
She graduated shortly after the race this month from Oakton Community College with a degree in Liberal Arts, a goal she set for herself years ago.
"I was so ready to graduate. I've been there for too long!" she says.
Related Posts
Comments
About the Author
Jacqueline Hughes is a former manager, media relations at Advocate Aurora Health. Previously, she was the public affairs and marketing manager at Advocate Lutheran General Hospital in Park Ridge, IL. She earned her BA in psychology at Stanford University in Palo Alto, California. Jackie has 10 plus years experience working in television and media and most recently worked at NBC 5 in Chicago. In her free time, she enjoys swimming, going to the movies and spending time with her family.