With breast cancer behind her, Darla is focusing on her fairy tale wedding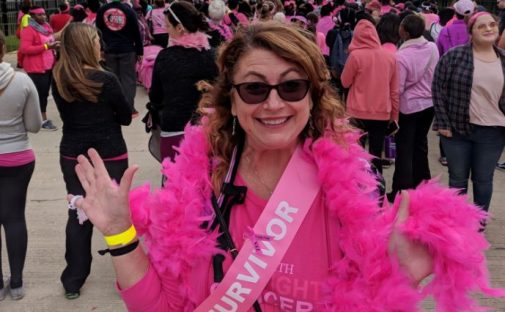 When Darla moved to Chicago for her future fiancé in 2015, being diagnosed with breast cancer was the furthest thing from her mind. But due to catching the cancer during a routine mammogram, her story has a fairy tale ending.
Having made the move from Columbus, Ohio, Darla dived headfirst into the Windy City. She became active assisting community special events and at her boyfriend Jeff's busy Northside Chicago restaurant, Gejas Café.
Not long after the couple became engaged, Darla's doctor found a lump during a routine mammogram, which is a tell-tale sign of breast cancer.
"I couldn't believe it because I do regular self-exams and didn't feel it," Darla recalls. "I know that I have dense breasts, and I was convinced it was just that."
Darla was immediately referred to Dr. Rosalinda Alvarado, breast surgeon at Advocate Illinois Masonic Medical Center in Chicago, to do additional ultrasound and biopsy testing. Ultimately, Dr. Alvarado performed surgery to remove the lump and five sentinel lymph nodes.
"When I woke up from the biopsy procedure, I realized right away I had breast cancer. I was trying to think positively. I was newly engaged and had a wedding to plan," Darla says.
So Darla and Dr. Alvarado came up with a treatment plan that was tailored to fit her needs. Much to her relief, she did not need chemotherapy, but she did undergo radiation treatment and is now on hormone therapy to reduce any future risk of cancer recurrence.
"Each breast cancer case is as unique as the woman who presents with it," says Dr. Alvarado. "That's why it's so vital for a patient to feel safe and comfortable with her team of physicians and be empowered to talk through all available treatment options and develop a plan that is best suited to her."
For her part, Darla looks back on this journey with feelings of love and gratitude.
"It's been a very trying year. I would not have been able to get through any of this without Jeff or my two daughters," Darla says. "I'm also so blessed to have my medical team, including Dr. Alvarado and Traci, the breast nurse navigator at Advocate Illinois Masonic. I hate to say I wouldn't change a thing, but I wouldn't. It has been very eye opening to experience the support that I have."
With the worst of the cancer scare now behind her, Darla can focus on her wedding day. Against the backdrop of the Grand Teton National Park, she and Jeff will be married in front of 60 of their closest friends and family in just a few short weeks. They have asked that, in lieu of wedding gifts, friends and family donate to charities close to their heart, including A Silver Lining Foundation, which works to increase women's access to breast screening mammograms and diagnostic evaluations.
"If I can send any message to someone through my story, it's to get a mammogram any way you can," Darla says. "Schedule your mammogram, catch it early, get it taken care of early, and then live life."
The entire month of June is dedicated to honoring cancer survivors, sharing their stories, inspiring others and celebrating life. We asked friends and family members to share letters, words of encouragement and special messages to the survivors in their lives. Click here to watch their incredibly touching video submissions.

Related Posts
Comments
About the Author
Jaimie Oh, health enews contributor, is regional manager of public affairs and marketing at Advocate Health Care. She earned her Bachelor's Degree in Journalism from the University of Missouri-Columbia and has nearly a decade of experience working in publishing, strategic communications and marketing. Outside of work, Jaimie trains for marathons with the goal of running 50 races before she turns 50 years old.