Senior citizens are more at risk for this condition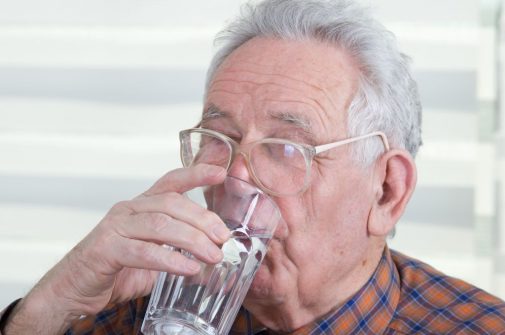 Elderly people can easily become dehydrated when not drinking enough fluids on a daily basis. The combination of the summer heat along with their aging state means that staying hydrated is a necessity.
Why the elderly? A 1990 Cleveland Clinic Journal of Medicine study explains there are often two kinds of dehydration seniors experience: hyponatremic and hypernatremic.
The main cause of hyponatremic dehydration in senior citizens stems from salt depleting from the body. They are more prone to this dehydration due to using medications called loop diuretics. Hyponatremic dehydration is also caused by diarrhea or vomiting — unfortunate side effects of some medications.
With hypernatremic dehydration, the body struggles to retain water, signaling to the brain there is not a signal for thirst. Therefore, a senior citizen can feel tired or fragile from not receiving enough water.
The British Nutrition Foundation (BNF) explains senior citizens are more at risk for dehydration since older age usually results in a greater risk for major health changes, such as decreased movement, lack of independence, memory concerns and reduced mental capability. In addition, without staying hydrated, kidney, urinary and constipation problems occur. These factors affect how much liquid an older adult is drinking.
Dehydration can cause serious health matters, according to Dr. Christopher Hughes, family medicine physician with Advocate Medical Group.
"Probably the most common consequence of dehydration is the inability to tolerate even minor illness and the possibility for acute kidney injury," he says. "Respiratory and urinary tract infections are among the more common reasons for hospital admission, as patients are generally weak from dehydration, which is aggravated by the underlying illness."
Why else does dehydration occur? The British Nutrition Foundation says some older people simply are just not thirsty or refuse to drink liquids to prevent excess bathroom trips. The lack of thirst is most common with those who have problems swallowing, have Alzheimer's disease, have suffered a stroke or do not properly take care of their diabetes.
"Another concerning consequence of dehydration is impairment of drug clearance from the body. This can lead to an increase in toxic metabolites and can be potentially harmful. This can be a motivating factor in getting patients to increase their fluid intake," says Dr. Hughes.
He adds the elderly don't have the "fat stores" to maintain fluids and advises his patients to try and drink at least one 8-ounce glass of water with food as well as one 16-ounce bottle of water during the day. And most importantly, he acknowledges drinking this amount can be difficult for some, but encourages all individuals to give it a try.
Notable warning signs of dehydration include: having excess thirst, urinating less frequently, feeling dizzy, tired, or faint and having urine that is darker than normal, according to National Institutes of Health. If you or a loved one experiences any of these symptoms, please do not hesitate to hydrate, and if needed, dial 9-1-1.
Related Posts
Comments
About the Author
Kelsey Andeway, health e-news contributor, is a public affairs intern at Advocate Health Care in Downers Grove. She is a senior at Loyola University Chicago earning a bachelor's degree in Communication Studies with a minor in Dance. In her free time, Kelsey enjoys dancing, baking, and taking long walks with her Chocolate Lab.