Advice from a cancer survivor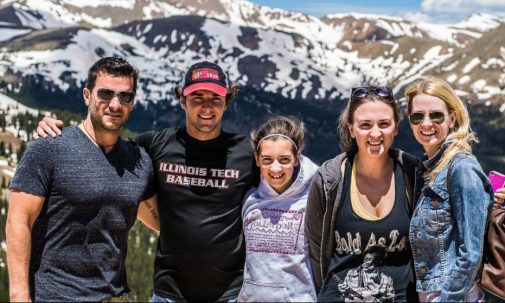 A couple of years ago, I noticed a tiny lump under my arm had changed. It was a little bigger than before and had a small dimple in that area. I had been getting mammograms for years, but this area didn't really show on the test because it was in my armpit. My doctors ordered an ultrasound and some biopsies in addition to the mammogram.
In August of 2016, at the age of 43, I was diagnosed with stage IIIA invasive lobular breast cancer.
Over the course of the next year and a half, I underwent chemotherapy, a double mastectomy, 33 radiation treatments and breast reconstruction surgery. I wouldn't have been able to get through this without my husband, kids, family, friends and the care team at Advocate Christ Medical Center. I actually feel like the doctors and nurses are part of my family now. They made me feel like I was going to be okay, would be taken care of and ultimately cured.
When I was first diagnosed, I didn't want to tell anyone because I'm a very private person. I chose to only tell my friend at first, who was also going through cancer. She shared the best advice with me:
In the beginning, find someone you can talk to about what you're going through. Having a support system you trust that will pick you up when you are down is huge.
Going through this journey means you will go through a grieving process of who you used to be. This process will change you for the better, and it will make you stronger.
Don't turn people away. Let them help you. Having little moments when people give you a blessing helps you in your recovery process.
Cancer does not discriminate! I always lived a healthy lifestyle, and that lifestyle actually helped me in my recovery process. I continued to exercise through chemo on days that I could get out of bed. Being healthy going into my multiple surgeries helped heal my wounds faster. For me, exercising and eating healthy helped me feel like I was in control of my situation.
When I was diagnosed, I remember many thoughts running through my mind. Would I be able to grow old with my husband? See my children grow up? After a long and hard battle, I am now cancer free and will be able to enjoy those special moments.
Meg Fitzpatrick is a mother of three and 43-year-old breast cancer survivor.
June is National Cancer Survivorship Month, a time dedicated to celebrating those who have beat cancer, an inspiration for those who are still battling and encourage cancer awareness for our community. We asked friends and family members to share letters, words of encouragement and special messages to the survivors in their lives. Watch their incredibly touching video submissions.
Related Posts
Comments
About the Author
Meg Fitzpatrick is a mother of three and 43-year-old stage IIIA breast cancer survivor.