Benefits of dancing available for everyone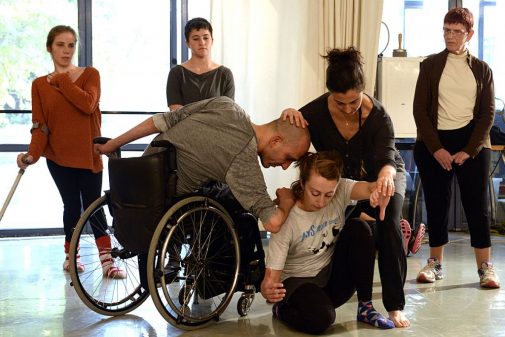 It is often challenging for people with disabilities to join recreational activities, unlike those without disabilities. However, two dance forms, physically integrated dance (PID) and adaptive dance, give individuals with disabilities an outlet to learn movement and share their artistry.
Dancers with disabilities can be underestimated because they don't always fit the traditional dancer body and have increased institutional barriers, according to the British Journal of Special Education.
What's physically integrated dance?
PID is a dance form that combines dancers with and without disabilities dancing together, according to the National Center on Health, Physical Activity and Disability. PID creates inclusivity for all dancers, no matter their range of mobility. Some dancers may use a wheelchair or mobility device while still learning technique like ballet or contemporary with dancers who do not have disabilities.
Many PID dancers want to be viewed as artists and strive to share movement with the greater public. A 2017 convening report by Axis Dance Company expresses PID dancers lead with art and not their disability. It is common for PID to embrace improvisation because sometimes the most meaningful movement is created on the spot. To help choreographers work with dancers who are in wheelchairs, they can use a PID training manual for guidance.
And adaptive dance?
Adaptive dance is adapting the movement itself in dance. For instance, Hubbard Street Dance Chicago offers programs related to Autism and Parkinson's. When working with different disabilities, every person has individual needs; some learners may require more modifications than others. Factors to consider include: having a smaller class side, an aid and being aware of the type of disabilities in the room. Those who have Autism usually thrive with a structured schedule, repetition and sensory devices, while people with ADHD can benefit from working with different speeds to aid in self-discipline.
"Our goal in rehabilitation medicine and the aim of the larger community should be focused on breaking down those barriers one obstruction at a time," says Dr. Susan Lis, medical director of physical medicine and rehabilitation at Advocate Lutheran General Hospital in Park Ridge, Ill. "This will ensure that every individual, despite his or her disability, can progress to the fullest potential."
"Dance can be very special for anyone," says Mark Fasick, a physical therapist at Advocate Lutheran General. "Not only is it fun, but the music and rhythms access parts of the brain that are not otherwise tapped into, resulting in movement that may not otherwise have been possible. That is why physical therapists use dance as a form of neurologic re-education with patients dealing with certain movement dysfunctions. It usually brings smiles, laughter…and occasionally tears of joy."
Fasick adds that it is wonderful people with disabilities are given the opportunity to find dance as a means of expression.
The NYC educators express PID and adaptive dance can help people with disabilities become more in tune with their bodies, gain a boost of confidence, develop technique and communication. They increase gross motor skills and cognitive knowledge, too.
In both PID and adaptive dance, one beneficial way to gage the type of learners is by using the "Brain Dance." The Brain Dance involves eight movement patterns that can impact the body's development. Some patterns are "breath, tactile, core-distal or head-tail." Babies naturally move through these movements during the first year of life. The Brain Dance enables people who have disabilities to work multiple body parts and can help form initial connections when first entering a dance studio.
If you or a loved one has a disability, would you consider joining an Advocate Health Care adaptive dance program? Let us know your thoughts in the comments below!
Related Posts
Comments
About the Author
Kelsey Andeway, health e-news contributor, is a public affairs intern at Advocate Health Care in Downers Grove. She is a senior at Loyola University Chicago earning a bachelor's degree in Communication Studies with a minor in Dance. In her free time, Kelsey enjoys dancing, baking, and taking long walks with her Chocolate Lab.