Expert tips to keep kids sun safe this summer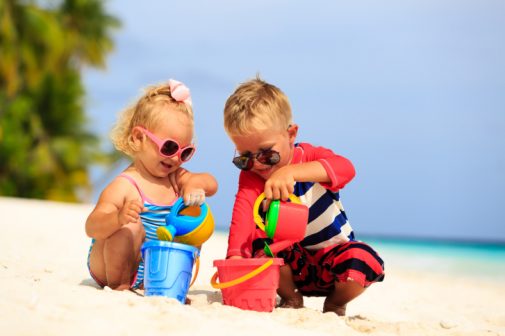 While the summer months offer families a chance to get outside and soak up some sun, the season can also increase your child's likelihood of developing skin cancer later in life.
Sunburns – inflammation of the skin caused by overexposure to the sun – are more just than a temporary inconvenience; they can lead to long-lasting skin damage.
According to the Skin Cancer Foundation, one in five Americans will develop skin cancer in the course of their lifetime. The risk of developing skin cancers (also called melanomas) is doubled for those who have had more than five sunburns. While this may be shocking, the good news is that there are preventive methods to decrease these chances.
"There are a number of ways to protect yourself and your children from the sun's harmful radiation," says Dr. Shrinal Vyas, a pediatrician at Advocate Children's Hospital in Park Ridge, Ill. "For toddlers especially, it is vital that parents take the necessary precautions to ensure sun protection"
Dr. Vyas recommends following these three steps to ensure your family stays safe in the sun:
Keep infants in the shade

– Babies under 6 months of age have extremely sensitive skin; the use of sunscreen is discouraged. Instead, dress babies in wide-brimmed hats, UV-blocking sunglasses and protective, lightweight clothing that covers the arms and legs. Utilize removable mesh window shields in the car and use a stroller with a sun-protective cover.

Use sunscreen often

– A broad spectrum sunscreen with a sun protection factor (SPF) of 15 or higher is suggested for children 6 months and up. If anticipating extended outdoor activities, use a water-resistant broad spectrum

sunscreen

with an SPF of 30 or higher. Generously apply sunscreen 30 minutes before your child goes outside. Reapply every two hours or immediately following swimming or excessive sweating. Remember that lips can also burn, so make sure your child is using a lip balm with SPF protection.

Limit outdoor playtime

– The sun is at its strongest between 10 a.m. and 4 p.m. Try to avoid spending excessive time outside during these hours. If your child is outdoors, be sure to apply plenty of sunscreen to help defend their skin from the sun's powerful rays.
"Preventing sunburns does not have to be a challenge. Utilizing these simple tips each day can greatly reduce your child's risk of acquiring a melanoma," Dr. Vyas says.
Related Posts
Comments
About the Author
Efua Richardson, health enews contributor, is a senior at Lewis University studying public relations & advertising. In the future, she hopes to work in entertainment, namely in the music industry. In her free time, she enjoys reading, scrolling through Instagram and trying new ethnic dishes. Among her talents is the ability to move her kneecaps in tune to music and wiggle her nose.