Nurse saves man's life at the gym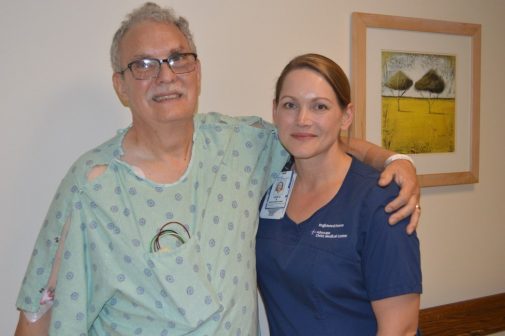 Hank Gnaidek underwent heart bypass surgery last fall due to coronary artery disease. It looked like his heart was in the clear after the surgery, but things would suddenly change when he was working out on June 14.
The 66-year-old grandfather was ending his morning exercise routine on the treadmill at his local gym. With only five minutes left in his workout, he fell off the treadmill and onto the floor, unresponsive. Luckily, Krista Ryan, an Advocate Christ Medical Center cardiac nurse, was working out just a few treadmills down from him.
"Out of the corner of my eye, I saw someone trip and fall. I looked back to see if he was alright, and I noticed he wasn't moving," says Krista, who quickly jumped to Hank's aid.
"I noticed he was unresponsive, so I checked for a pulse and couldn't find one. I immediately began CPR and called out for an automated external defibrillator (AED) machine," says Krista. "I alternated compressions with two bystanders and hooked him up to the AED once it arrived."
Two shocks were sent from the AED machine to Hank's heart. He regained consciousness within minutes of the second shock. The paramedics arrived on scene and took him to Advocate Christ in Oak Lawn, Ill.
"One minute, I was working out, and the next thing I know, I'm waking up on the floor with everyone around me," Hank recalls.
One of Hank's major heart arteries had two blockages at about 90 percent severity due to his coronary artery disease, which led to this heart issue. A cardiologist with the Advocate Heart Institute at Christ Medical Center placed a stent in Hank's artery to open the blockage, allowing blood to flow again at a normal rate.
Dr. Vinay Arora, the interventional cardiologist who performed Hank's surgery, says he is lucky to be alive.
"This outcome emphasizes the importance of being CPR trained. You never know when you could save someone's life. If CPR is not administered quickly, a person who suffers a heart attack might not survive or could have permanent damage. Having access to an AED machine tremendously helps the chances of a full recovery, but CPR is key regardless. Fortunately, Krista was nearby and knew exactly what to do. Because of Krista's intervention, Hank survived and doesn't have brain, kidney or heart damage."
Hank is more than grateful for Krista. "I keep looking behind her to find out where her wings are because she is my guardian angel and hero."
Related Posts
Comments
About the Author
Marrison Worthington, health enews contributor, is a public affairs and marketing manager at Advocate Christ Medical Center in Oak Lawn, Illinois. She is a graduate of Illinois State University and has several years of global corporate communications experience under her belt. Marrison loves spending her free time traveling, reading organizational development blogs, trying new cooking recipes, and playing with her golden retriever, Ari.