Insect-borne infections are on the rise – here's how to protect yourself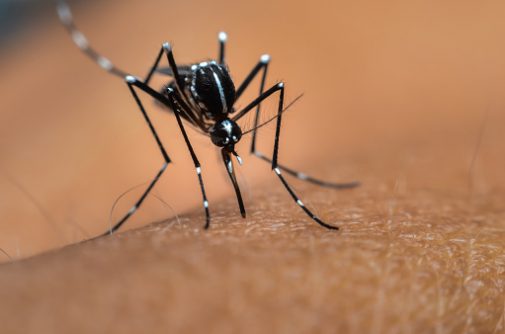 Sun's out, bugs are out.
While some of us seem to be magnets for bug bites, it's important to remember that those bites are more than annoying–they can also be dangerous. The Centers for Disease Control and Prevention recently announced that infection rates from mosquito, tick and flea bites in the U.S. tripled from 2004-2016. While the emergence of Zika virus was a major contributor to this spike, other commonly reported infections included Lyme disease and West Nile virus.
"The number and types of insect-borne infection cases that we are seeing in the U.S. are on the rise," says Dr. James Malow, an infectious disease and internal medicine physician at Advocate Illinois Masonic Medical Center in Chicago. "Many diseases carried by insects that previously lived only in tropical climates are now making their way into new parts of the globe, including ours, due to climate change."
"The spread of mosquito-borne diseases is particularly concerning because most of them are not treatable," says Dr. Malow. "While tick-borne bacterial infections such as Lyme disease and Rocky Mountain spotted fever are treatable with antibiotics, most mosquito-borne infections are viruses, which have no effective treatment. That means preventing the bites in the first place is crucial."
How can we best protect ourselves from these dangerous insect bites? Dr. Malow has a few tips.
Wear insect repellent. Remember to reapply according to the directions, and don't just wear it at night–some types of mosquitoes bite during the day. Always apply sunscreen first and bug spray second. Always use an EPA-registered repellent, and remember that stronger products are often needed to repel certain kinds of insects, like ticks. This tool from the EPA is a great resource to find the best product depending on what activities you will be doing.
Wear protective clothing. Long sleeves help protect against mosquitoes and ticks. You can also wear clothing treated with the insecticide permethrin for longer-term protection.
Check for ticks. Avoid tall grass or brush when hiking, and check thoroughly for ticks as soon as you get home. The longer ticks stay attached to you, the greater your risk of being infected. Don't try to burn or cut off ticks–instead, use a pair of tweezers to gently lift and pull the tick straight out. This will ensure its mouthparts don't remain in your skin and cause an infection.
Mosquito-proof your home. Make sure all windows and doors have screens that are in good repair. Mosquitoes breed in standing water, so get rid of any buckets, old tires, toys or other items that collect water.
Avoid sexual transmission of Zika virus. Unlike other mosquito-borne diseases, Zika can be spread through sexual activity. Use barrier precautions during sex if you are in or have been in an area where Zika is present. This is especially important for pregnant women, since Zika can be transmitted to unborn children and can cause birth defects. Many people do not experience any symptoms if they are exposed to Zika, so if there is any chance you have been exposed, take these precautions right away and talk to a doctor if you are pregnant or may become pregnant.
See a doctor if you notice symptoms. In the U.S., the most common mosquito-borne infections include West Nile virus, encephalitis and now Zika virus, and common tick-borne ones include Lyme disease and Rocky Mountain spotted fever. Symptoms vary by disease, but the most common ones include fever, rashes, headaches, chills, muscle aches and nausea.
Talk to an expert before traveling. If you go to a tropical or subtropical country, you may be at risk for additional insect-borne infections including dengue, chikungunya, malaria and yellow fever. See an infectious disease specialist or a center that specializes in travel medicine for advice on vaccines and ways to protect yourself.
"Above all, be aware that insect-borne illnesses are serious forms of infectious disease," says Dr. Malow. "Make sure to consult a specialist before traveling anywhere there's a risk of contracting an insect-borne infection, and talk to your doctor right away if you have symptoms of an insect-borne disease. Most importantly, don't slack on preventing insect bites. The best way to protect yourself and your family from these diseases is to do everything you can to avoid being bitten."
Related Posts
Comments
About the Author
Sophie Mark, health enews contributor, is a Public Affairs Intern at Advocate Illinois Masonic Medical Center in Chicago. She is also a student at Loyola University Chicago, where she is completing her degrees in Advertising/Public Relations and English. In her free time she loves reading, baking, and exploring the city.