Suffering from these summer skin problems?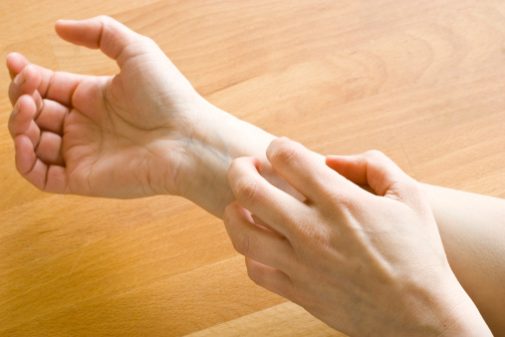 Summer is an exciting time of year, filled with days at the beach, barbeques and festivals. While the time outside rejuvenates us before winter, the extra sun exposure can be damaging to your skin.
We have all likely experienced some of the natural skin issues of summer: a painful sunburn, an acne breakout or itchy mosquito bite; but how can we treat and avoid these problems?
Acne breakouts
Summer weather can cause unexpected breakouts on the face and body. According to the American Academy of Dermatology, "acne appears when a pore in our skin clogs." When the body produces oil (sebum) to keep our skin hydrated, dead skin cells attract each other and clog pores. To maintain clear, healthy looking skin, remember to:
Keep a towel in your bag. If you tend to sweat profusely, do not wipe your face with your bacteria-ridden bare hands. Instead, carry a small towel to pat your face with. Bacteria lives on the skin, and their ability to multiply on the skin causes clogged pores.
Cleanse your face regularly. Maintain a consistent skin care routine (e.g. washing your face every morning and night) to unclog your pores and prevent buildup on your skin.
Stay hydrated. It is very important to stay hydrated throughout the day, especially in the heat. Knowing how much water you need to drink per day is very simple. Dr. Jessica Borowicz, a dermatologist at Advocate Lutheran General Hospital in Park Ridge, Ill., suggests multiplying your body weight by 0.67 to figure out how many ounces of water you need to drink per day.
Example:
    125 lbs (weight) x 0.67 = 80.4 ounces of water per day
Bug bites                                                                                    
Insects like mosquitoes, ticks, bees and fleas carry pathogens, bacteria and/or viruses that can trigger inflammatory responses and disease. According to the Centers for Disease Control and Prevention, to keep your skin safe, remember to:
Use bug repellent. Take proper precautions and always keep a bottle of bug repellent on you to help prevent potential bites.
Be aware of exposed skin. Wear long sleeve shirts, pants, long socks and a hat to prevent bugs from making immediate contact with your skin.
First aid. Dr. Borowicz recommends you seek immediate medical attention if you are worried about the tick being on you for more than 48 hours. For simple bug bites, hydrocortisone one percent cream or calamine lotion can be used.
Sunburn
Being in the outdoors for any length of time exposes you to UV rays. Even on cloudy days, UV rays are present and damage the skin. Aside from the redness, peeling and pain associated with sunburn, Dr. Borowicz says that sun exposure is one of the major risk factors for developing skin cancer. To have fun in the sun this summer while protecting your skin, remember to:
Apply sunscreen often. "Sunscreen/sunblock always needs to be reapplied every two hours, and at least one ounce needs to be applied to cover the skin," says Dr. Borowicz. Apply more frequently when swimming, sweating or showering and toweling off, because no sunscreen is truly waterproof.
Use the right SPF. Dr. Borowicz recommends using mineral sunblock of SPF 30 to 50. Mineral sunblocks include zinc oxide, titanium dioxide and iron oxide. "Just like we read the labels on our food, we should be reading the labels on the products for our skin," says Dr. Borowicz.
Develop a sun protection routine. Dr. Borowicz says using sunscreen or sunblock is only one part of a complete sun protection routine. To protect your skin from harmful UV rays, Dr. Borowicz also suggests seeking shade when possible, avoiding mid-day sun and wearing sun protective clothing and accessories such as sunglass, hats and sun shirts.
Dr. Borowicz encourages you to follow her Instagram account, @drjessicaborowicz, to learn more about skin care, dermatology and cosmetics.
Related Posts
Comments
About the Author
Erica Gardner, health enews contributor, is a public affairs and marketing intern at Advocate Lutheran General Hospital in Park Ridge, Ill. She is currently pursuing her BA in Health and Organizational Communication and a minor in Spanish at the University of Illinois Urbana-Champaign. At school, she serves as a Peer Academic Advising Intern and a Communication Leader in the Communication Department. Erica enjoys reading, music and working out. After graduation, she plans to pursue a career in public relations at a health organization.