Do you have a tired teen?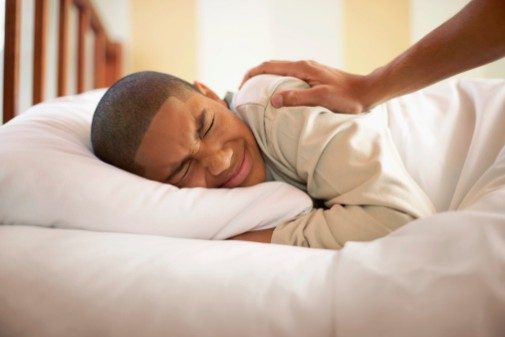 Teenagers who don't get enough sleep may have a higher risk of developing heart disease later in life.
A recent study published in the journal Pediatrics found that teens who slept the least had the most risk factors for heart disease, including more body fat, higher blood pressure and unhealthy cholesterol levels. Lack of sleep was alarmingly prevalent–only 2.2 percent of the participants reached the recommended amount of sleep for their age.
Besides its toll on the heart, lack of sleep can cause a host of other health problems for teens.
"Poor sleep can lead to worsening mood states, including depression and anxiety, issues with hormonal cycles, headaches and digestive issues," says Dr. Margaret Park, a neurologist and sleep medicine specialist at Advocate Illinois Masonic Medical Center in Chicago. "It is also a safety threat for teens who drive."
The amount of sleep teens should be getting is higher than most people expect.
"Teenagers need at least 8.5-10 hours of sleep per night." says Dr. Park. "While the needs of a 13-year-old are certainly different from an 18-year-old­, a good benchmark to aim for is about 9 hours nightly."
Dr. Park says one of the reasons teens are falling short on sleep is too much screen time.
"Overuse of electronics creates a terrible cycle," she explains. "The light from these devices worsens the ability to fall asleep naturally, leading to sleep deprivation. More sleep deprivation leads to lower productivity during the day–often leading to slower completion of schoolwork, less efficient studying, worse grades–more stress to do well–which also hinders the ability to relax and fall asleep."
Dr. Park suggests that teens follow a daily routine to promote better sleep.
"Put away the electronics at least 1-2 hours before bedtime," she recommends. "Next, organize things in preparation for the next day, and then use the rest of the time to relax. Find methods that calm you down–stretching, meditation, reading, coloring, family time–anything that is enjoyable and lets you unwind without electronics. During the day, make sure to include enough exercise and time outside to tire you out in a healthy way, and cut caffeine by the late afternoon."
Dr. Park stresses that the whole family should follow healthy sleep habits and set an example for teens.
"I highly recommend that parents put away work 1-2 hours before bed and use that time to implement a household routine where everyone can relax, unwind, and partake in enjoyable activities without electronics," says Dr. Park. "Make the bedroom an electronic-free zone, as well–it should be a clutter-free and stress-free space that allows for relaxation and good sleep. Make sleep a priority in the house–stress how much sleep is needed for a healthy body, brain, and mindset. Above all, remember that teens are in a crucial period of development. Implementing good sleep habits now will have a profound and lifelong effect on all aspects of their health."
Related Posts
Comments
About the Author
Sophie Mark, health enews contributor, is a Public Affairs Intern at Advocate Illinois Masonic Medical Center in Chicago. She is also a student at Loyola University Chicago, where she is completing her degrees in Advertising/Public Relations and English. In her free time she loves reading, baking, and exploring the city.