How this heart transplant patient continues to beat all odds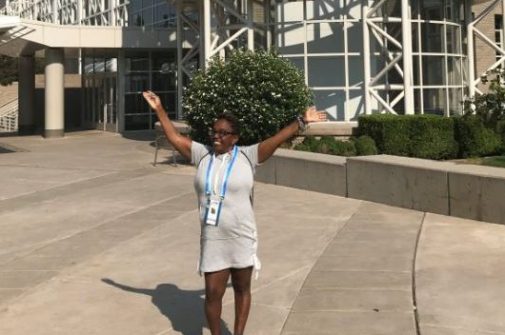 When perfectly healthy 34-year-old Nicole Brown suddenly became ill in 2012, doctors rushed to uncover the reason.
She began treatment at Advocate Christ Medical Center in Oak Lawn, Ill. for a ruptured heart valve. Even after undergoing seven surgeries, it became apparent the only way of survival was a new heart.
In Dec. of 2012, Nicole was added to the heart transplant list. While waiting, her biventricular heart ventricle became infected, making the transplant even more crucial. She was sent home to wait for a new heart.
Her prayers were finally answered on Feb. 2, 2013, when Nicole's doctor excitedly gave her the long-awaited news and prepped her for transplant surgery.
Recovery was a difficult journey for Nicole, especially last year when she fell ill again. She was treated for a stroke and acidic stomach erosion. Although she still has nerve damage in her right hand, through support and determination, Nicole learned to walk again.
Nicole is very appreciative of the transplant team and has developed close relationships with her doctors at Advocate Christ, who have been the only physicians to treat her.
"We are so proud of Nicole," says Dr. William Cotts, Advocate Heart Institute cardiologist. "She is an outstanding patient with so much energy and enthusiasm. Nicole really looks out for other people who have transplants and is an advocate for them. Our goal is for all of our patients to be able to get out there and do things like Nicole. We want our patients to live normal lives, or in her case, an extraordinary life."
Nicole continues to prove her strength through playing cornhole and darts in the Transplant Games of America, which were held on Aug. 2-7. This is the second year she has participated in these celebratory games, where Transplant Life Illinois organizes a team to compete in this nationwide event. Donors and the families of donors are honored at the games, as well.
"This year's games were special because of all I went through last year, learning how to walk again," says Brown. "I do it for my donor, who was a mother of three and lived life to the fullest."
Nicole competed wearing a locket containing a picture of her donor's fingerprint sent to her by her donor's family, who she still communicates with regularly on social media. She also wore a button with her picture on it.
"It's what I owe her, my doctors, nurses and hospital, because without them and God's help, there would be no story to tell," adds Brown.
Nicole is currently living a healthy life on the same block she has lived on for 40 years. She is passionate about life, music, reading and has recently returned to work at the Census Bureau.
She has taken advantage of her second chance at life.
Many people suffer from heart problems without experiencing any symptoms. Worried about your heart health? Take our online heart assessment to gauge your risk. 
Related Posts
Comments
About the Author
Allison Garetto, health enews contributor, is a public affairs intern at Advocate Christ Medical Center in Oak Lawn. She is a senior at the University of Illinois in Urbana-Champaign, where she is pursuing a degree in communication and a minor in psychology. Allison is a vegetarian, artist and travel enthusiast.