Gazing into his wife's eyes helped save her life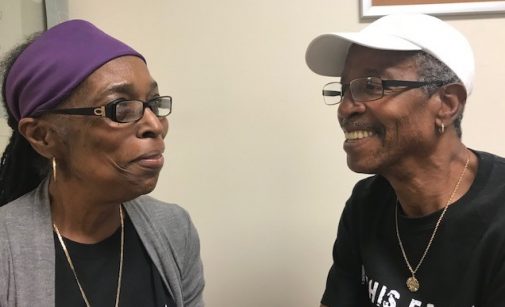 After 35 years of marriage, the romantic fire between Rochelle and Bernard Stinson still burns brightly. In fact, it was Bernard's loving gaze into his wife's eyes that saved Rochelle's life and led to the unexpected expansion of their family this year.
"I look into Rochelle's eyes every morning to tell her I love her. One day, I noticed her eyes were yellow. I knew that couldn't be right," Bernard explains.
It turned out Rochelle's jaundice, which made her skin and the whites of her eyes yellow, was a symptom of pancreatic cancer – one of the deadliest. In 2016, pancreatic cancer became the third leading cause of cancer-related death, surpassing breast cancer.
"At first, I thought 'Am I going to lose my wife? How am I going to go on without her?'" Bernard recalls. "It was rougher than going through Vietnam because I couldn't do anything to help. I couldn't do anything but pray to God," Bernard, a retired veteran explains.
Bernard's spirits began to lift after Rochelle underwent a Whipple procedure – performed by general surgeon Dr. Marc Mesleh at Advocate Christ Medical Center in Oak Lawn, Ill. The pea-sized growth was removed, and the cancer had not spread. But with six months of preventive chemotherapy ahead – recommended by Advocate oncologist Dr. Nenad Antic – Rochelle and Bernard were both nervous about the unknown…until they met Deanna Bruce and Tonya Lewis, both registered nurses at the Advocate Trinity Hospital Infusion Center in Chicago.
"Dr. Antic recommended [Deanna and Tonya] by name. He was like a genius," Rochelle says, adding that her home is conveniently located equal distances from Advocate Christ and Advocate Trinity. From her first visit to Advocate Trinity, Rochelle says she appreciated what her doctor ordered.
"When I got [to Advocate Trinity] and I met these nurses, it made me feel like I was in good hands because they felt like family," Rochelle says. "It's not a one-sided thing. Deanna had so much energy and so much positivity. Tonya was the same."
In fact, Rochelle says every team member, on every visit, made her feel welcomed and cared for, including the valet and guest services team members, patient transporter Taron Cain and even cardiac data quality specialist Mary Howard, who met Rochelle and Bernard in a hospital hallway.
"Some days, I would be feeling so bad, and just a positive word would pick me up," Rochelle says. She came to enjoy swapping stories about family and other topics with Deanna and Tonya during her treatments.
As of August 7, Rochelle is cancer-free. She does not miss chemotherapy treatments, but she intends to maintain her relationships with her oncology nurses, who she and Bernard have "adopted" as family members.
"Hopefully, it will be a continuous friendship," Rochelle adds. "I would hope they would come by when we have a barbeque," the retired Chicago Public Schools teacher says.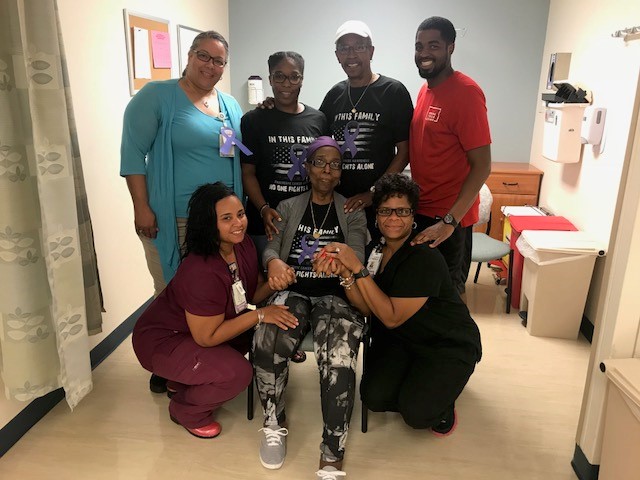 Related Posts
Comments
About the Author
Cassie Richardson, health enews contributor, is regional coordinator on Advocate Aurora Health's Public Affairs team. She has more than 10 years of experience in health care communications, marketing, media and public relations. Cassie is a fan of musical theater and movies. When she's not spreading the word about health and wellness advancements, she enjoys writing fiction.