Former police officer with heart failure finds his rhythm again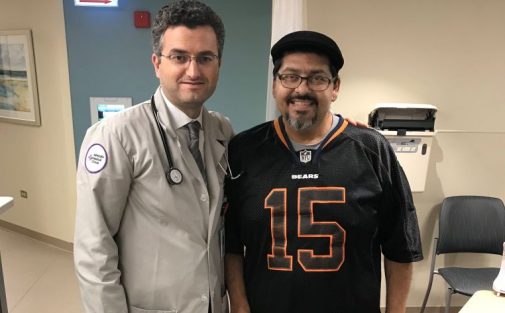 It was the fall of 2008 when Jesus Zayas, a former police officer, developed a cough that seemed harmless. But then the coughing didn't stop, and suddenly, his phlegm was coming up pink. Realizing he was coughing blood, he rushed to the hospital.
Jesus didn't realize it just then, but he developed a heart condition called congestive heart failure, a common but extremely challenging disease in which the heart becomes too weak to pump enough blood for the body. Patients with this disease can experience a range of symptoms from shortness of breath, coughing and exhaustion to cardiac arrest.
Unless the disease is properly managed, patients with congestive heart failure can find it difficult to maintain their lives. In Jesus's case, he was prescribed medication and eventually even had a defibrillator placed in his chest to help him manage his disease. Despite these interventions, Jesus still found it hard to keep up with life.
"I was still struggling a lot during that time in my life," Jesus says. "I always felt dizzy and sometimes even felt like I could almost fall over. I couldn't even go up any stairs. I used to always go to the park to play with my grandkids, but I eventually couldn't keep up with them, and I stopped going."
Last year, these hardships led to a referral to Dr. Mugurel Bazavan, a cardiologist at Advocate Illinois Masonic Medical Center in Chicago. There, Dr. Bazavan oversees a "one-stop shop" heart failure clinic designed so patients can see all the heart specialists and undergo all the cardiac services they need in one place.
"Our heart failure clinic is designed in such a way that allows us to provide patients convenient access to high-quality cardiac care," Dr. Bazavan says.
After a consultation with Dr. Bazavan, a few simple but life-changing alterations were made to Jesus' medications. In addition to his medication changes, Jesus underwent a minimally invasive procedure so that Dr. Bazavan and his team could monitor his health remotely.
During this procedure, a small FDA-approved device was implanted in his heart. Following the procedure, Jesus was sent home with a high-tech pillow that takes readings from the device in his heart and notifies Dr. Bazavan of any changes that can indicate a worsening condition. This allows Dr. Bazavan and his team to react and help manage Jesus's symptoms in real time.
Now, Jesus is able to keep up with life and stay active. He has even lost 50 pounds since coming into Dr. Bazavan's care. He's looking forward to getting back on his feet and perhaps re-entering the police force.
"I am feeling awesome and stronger now," Jesus says. "I wouldn't be here today if it wasn't for Dr. Bazavan. He's my guardian angel."
Want to know your risk for heart disease? Take our simple and easy Heart Risk Assessment today.
Related Posts
Comments
About the Author
Jaimie Oh, health enews contributor, is regional manager of public affairs and marketing at Advocate Health Care. She earned her Bachelor's Degree in Journalism from the University of Missouri-Columbia and has nearly a decade of experience working in publishing, strategic communications and marketing. Outside of work, Jaimie trains for marathons with the goal of running 50 races before she turns 50 years old.