Woman flies across the country to help save the lives of two people she never met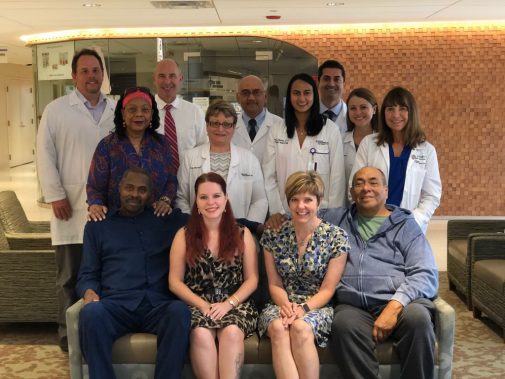 Jessie Estabrook, a single mother living in Tucson, AZ., heard about Kenneth Dowdell, a neighbor's brother-in-law, living in Evergreen Park, Ill., who was on dialysis for five years and in urgent need of a new kidney. She decided to perform one of the most extraordinary acts of generosity and donate one of her two kidneys to Kenneth. After preliminary testing, it was determined Jessie wasn't a match for him, but the story does not end there.
In Plainfield, Ill., living only a few suburbs away from Kenneth, Dennis Salazar, a grandfather of two girls, was going to be put on the kidney transplant recipient waiting list. His wife, Lenora, had been tested but was not a donor match. Once the Advocate Christ Medical Center transplant team reviewed both Kenneth and Dennis' cases, they determined Jessie and Lenora, while not a match for Kenneth and Dennis respectively, were instead each a match for the other recipient.
Both Jessie and Lenora said yes to saving strangers' lives by donating one of their kidneys.
"I have always done whatever I can to help others, but what really made me do it was my father passing away recently," says Jessie. "My mother wanted to donate her kidney to Kenneth in honor of my dad but wasn't able to do so quickly due to donation requirements. So, I decided to donate my kidney in honor of my dad. If I could have saved my dad with an organ donation, I would have. Knowing I was able to help save not only one life but two, and they can live full, healthy lives with their families is truly what makes it worth it to me."
Kenneth and Dennis said their families had been praying that God would bless them with a healthy kidney, and that their prayers were answered. On September 11, Jessie, Kenneth, Dennis and Lenora all successfully underwent kidney transplant surgery.
"Donating to a complete stranger is remarkable," says Dr. Douglas Slakey, one of the surgeons who performed the transplants at Advocate Christ Medical Center in Oak Lawn, Ill. "Lenora and Jessie are one of the few who we call altruistic kidney donors. This kind of donation means a living donor gives their organ to someone they have never even met. It takes a special person to do this, and it is truly an amazing gift."
"I told Dennis I would rather have one kidney and you by my side then two kidneys and not you," says Lenora. "When I found out I could help someone else, it was a win-win for me."
In 2017, there were 6,182 living donor transplants, according to the United Network for Organ Sharing. Healthy living individuals can donate one of their two kidneys, one of two lobes of their liver, a lung or part of a lung, part of the pancreas or part of the intestines. Living donors can also donate tissue and bone marrow.
"There are benefits to receiving an organ donation from a living donor instead of a deceased-donor, including the ability to plan the timing of the surgery better and ensure the organ comes from a healthy donor," says Dr. Deepak Mital, kidney transplant surgeon at Advocate Christ Medical Center. "Patients can spend many years waiting for an organ from a deceased donor. It's important for people to know they have options to donate and can save other lives while they are still living a healthy life."
"It's pretty overwhelming to experience this act of love and generosity from Jessie," says Dennis. "I could have spent years sick on dialysis like many other people waiting for a new kidney, but because of her gift, I'm able to get back to living my life with my family."
"God works in amazing ways and brought us all together for this miracle," says Kenneth.
All of the donors are now home and recovering.
Advocate Christ Medical Center is the only kidney transplant program in the south and southwest suburbs providing improved access to transplantation services patients who might otherwise have to travel to downtown Chicago or out-of-state for treatment and follow-up care. Learn more about the program here.
Related Posts
Comments
About the Author
Marrison Worthington, health enews contributor, is a public affairs manager for Advocate Health Care and Aurora Health Care. She is a graduate of Illinois State University and has several years of global corporate communications experience under her belt. Marrison loves spending her free time traveling, reading organizational development blogs, trying new cooking recipes, and playing with her golden retriever, Ari.