1 in 5 college students contemplate suicide due to stress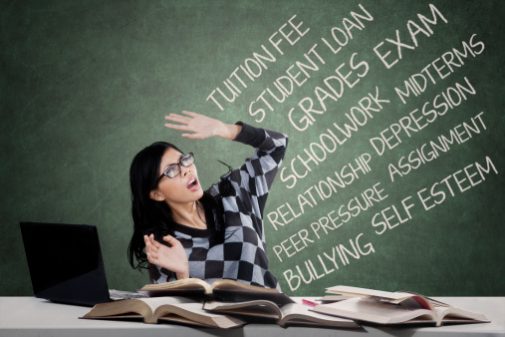 Mental health is a large concern across the country, and a recent study shows just how dire the situation is with college students.
According to new research published in the Depression and Anxiety journal, more than 20 percent of college students experienced stressful events in the past year that were associated with mental health problems, including harming themselves and suicidal thoughts or attempts.
Study leaders analyzed data from a 2015 college health assessment survey that included more than 67,000 students.
Dr. Laura Chang, a child psychiatrist with Advocate Children's Hospital in Park Ridge, Ill., says that some of the most common reasons college students seek help from a mental health expert are academic stress, relationship concerns, conflict with their family or social group or identity issues.
"However, triggers that are often underappreciated but frequently play a large role in feelings of stress or depression include substance abuse, shape or weight concerns, lack of structure and a feeling of not having a clear direction moving forward," explains Dr. Chang.
College students who are feeling anxious or overwhelmed should reach out if they need help. "College is a difficult transition for so many people, and you are not alone. Seek out support if you need it. Also, remember that you are learning and growing, and that choices and experiences you make now will inform your future self but will not limit your future self."
Parents of college students should try to be receptive and nonjudgmental. Dr. Chang recommends parents leave openings for important conversations such as those about sexuality, substance abuse and future goals, without pushing the topics. Make sure your child always knows that you love them and will help them, no matter what life transitions occur.
Related Posts
Comments
About the Author
Julie Nakis, health enews contributor, is manager of public affairs at Advocate Children's Hospital. She earned her BA in communications from the University of Iowa – Go Hawkeyes! In her free time, she enjoys spending time with friends and family, exploring the city and cheering on the Chicago Cubs and Blackhawks.