Is your child afraid of the doctor?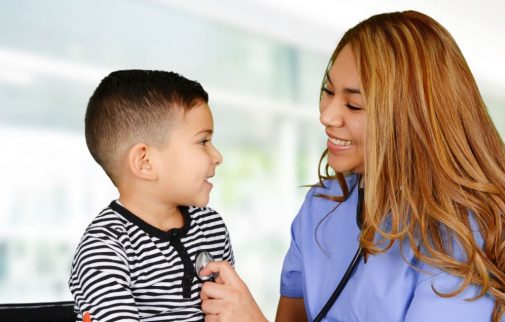 Is your toddler or pre-schooler afraid of the doctor? You're not alone. According to a recent poll by CS Mott Children's Hospital at the University of Michigan, about half of parents surveyed say a trip to the doctor can be challenging. Of the more than 700 parents they talked with, those with fearful children said it was shots and stranger anxiety that topped the list of reasons.
"I think children of any age need be prepared for a visit to the doctor's office," says Dr. Shrinal Vyas, a pediatrician and medical director at Advocate Children's Medical Group. "Tell them what the visit might entail – listening to their heart and lungs, looking into their ears and throat. Some children just have anxiety over being touched."
Dr. Vyas says there are books and videos to help in explaining a doctor's visit, but even reassurance from parents can go a long way.
"If vaccines are due during an upcoming visit, tell them in advance," says Dr. Vyas. "It will help your child prepare for the shot, and he or she won't be taken by surprise."
Some additional tips from Dr. Vyas for parents:
Stay calm; your child can feel your anxiety
Bring along a second adult if you want help calming your child while you speak with the physician
Come prepared with questions for the visit; it will go more smoothly, and you will get out quicker
Ask your questions at the start of the visit before your child's anxiety distracts you
Don't skip shots and appointments because of your child's fears
"Regular visits to the doctor are essential to your child's overall good health," says Dr. Vyas. "If your child is fearful, collaborate with his or her pediatrician to find the best way to lessen the anxiety."
Related Posts
Comments
About the Author
Evonne Woloshyn, health enews contributor, is director of public affairs at Advocate Children's Hospital. Evonne began her career as an anchor and reporter in broadcast news. Over the past 20 years, she has worked in health care marketing in both Ohio and Illinois. Evonne loves to travel, spend time with family and is an avid Pittsburgh Steelers fan!