How an advanced imaging test caught cancer a standard mammogram didn't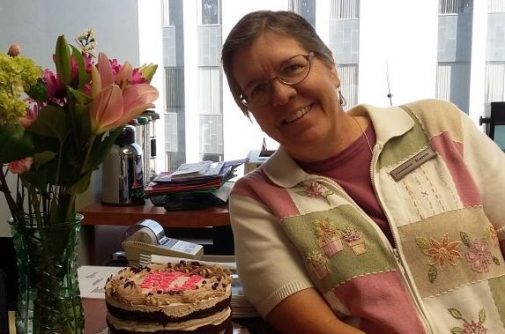 For Karen Rosenthal, 2018 started off with some big bumps in the road.
In February, at the age of 59, she went in for her annual mammogram, something she was diligent about doing almost every year.
But the results this year came as a shock.
"I remember going in and hearing the words, 'We found something suspicious on your right breast,'" says Rosenthal. "The words came as a total surprise."
The cancer the radiologists found was extremely subtle and difficult to visualize on the screening mammogram. In fact, the mass was only seen on the 3D mammogram and would have been missed completely on a 2D mammogram. The doctors then performed an ultrasound and biopsied the area on the right breast, which returned as an Infiltrating Lobular Carcinoma.
"Lobular cancers are a type of cancer that are often occult or often missed on standard 2D screening mammography," says Dr. Nila Alsheik, Section Chief of Breast Imaging at the Caldwell Breast Center at Advocate Lutheran General Hospital in Park Ridge, Ill., and Chair of Breast Imaging at Advocate Health Care. "Because of this, surgeons often order an advanced imaging examination such as breast MRI or Contrast Enhanced Mammography prior to definitive surgery to assess true disease extent (or size of cancer) and also to screen the opposite breast in a more comprehensive fashion. Oftentimes, mammograms can underestimate the true extent of the cancer, so advanced imaging ensures appropriate evaluation of disease extent, thereby setting our surgeons and patients up for success following surgery. This was especially important for Karen because she has dense breasts."
So, Rosenthal's doctors ordered an advanced imaging test, called Contrast Enhanced Digital Mammography, or CEDM. Advocate Lutheran General is the only hospital in the state of Illinois to offer CEDM, which uses a contrast injection, like with a CT scan, in combination with mammography to identify cancers that aren't visible on a standard mammogram. CEDM can also be utilized to screen patients with a genetic predisposition to breast cancer, as a follow-up following neoadjuvant chemotherapy for breast cancer or if the patient has a persisting clinical symptom such as bloody nipple discharge for which no cause has been found on standard mammogram and ultrasound.
"In Karen's case, we injected a contrast, and the pictures showed us a very suspicious uptake of dye in the opposite left breast," says Dr. Alsheik. "This was surprising because the mammogram had only showed cancer in the right breast. We then ordered a whole breast ultrasound on her left breast that same day and found four discreet solid masses on the left side. Karen's whole left breast was involved by cancer, something we would not have appreciated if it had not have been for the Contrast Enhanced Digital Mammography."
For Karen, she credits CEDM with saving her life.
"This whole experience has made me thankful for so many things," says Rosenthal. "If the initial 3D mammogram hadn't found the small cancer on my right breast, I never would have had an ultrasound and biopsy and may have never had the CEDM and found the cancer in my left breast. I could have been living with cancer for another year or more, and who knows what could have happened at that point or how far it could've spread."
For now, after a one lumpectomy in her right breast, a mastectomy in her left breast and six weeks of radiation, all signs of cancer are gone.
"It's been a tough eight months, but now I'm back to living my life, going to work, enjoying the little things. All thanks to the CEDM. I can't praise it enough. I would advocate for everyone who has dense breasts or a genetic predisposition to cancer to get this advanced imaging test."
Concerned about your breast cancer risk and interested in getting a Contrast Enhanced Digital Mammography? Advocate Health Care is the only health system in the state of Illinois to offer this advanced imaging tool. To schedule a CEDM, call the Caldwell Breast Center at 847.723.3303 or click her for more information.
Our Breast Health Assessment estimates your five-year and lifetime risks of developing breast cancer.
Related Posts
Comments
About the Author
Jacqueline Hughes is a former manager, media relations at Advocate Aurora Health. Previously, she was the public affairs and marketing manager at Advocate Lutheran General Hospital in Park Ridge, IL. She earned her BA in psychology at Stanford University in Palo Alto, California. Jackie has 10 plus years experience working in television and media and most recently worked at NBC 5 in Chicago. In her free time, she enjoys swimming, going to the movies and spending time with her family.