Music to their ears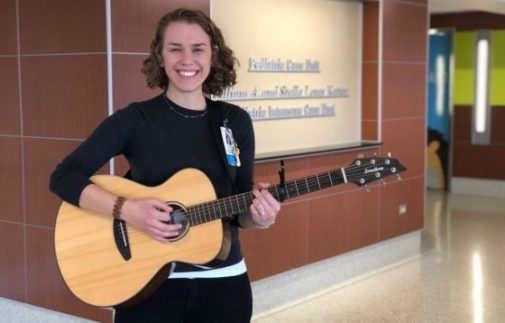 Music therapists play an important role in the hospital setting. They work with all populations, from the smallest patients in the Neonatal Intensive Care Unit (NICU) to the oldest in the hospital. Music therapists are board-certified and have completed course work in music therapy at the undergraduate or graduate level. They provide clinical and evidence-based music interventions within a therapeutic relationship to help move patients towards their individualized treatment goals.
Victoria Vitale is a board-certified music therapist at Advocate Children's Hospital in Park Ridge, Ill. She works on the pediatric units as well as in the NICU, where she tailors music therapy specifically for newborns, their families and hospital staff.
Studies have found that music therapy can benefit babies in the NICU in a big way. Babies who receive music therapy in the NICU are discharged more quickly than those who do not. Due to the length of stay in the NICU, which can be several weeks to a year, parents and caregivers are not always able to be by the baby's side. Vitale says having a music therapist visit the bedside helps increase socialization and provides developmentally-appropriate sensory stimulation when caregivers cannot be present.
"Music therapy promotes self-regulation, stabilizes vital signs such as heart rate and blood-oxygen levels and builds tolerance for being touched, making eye contact and being held. Live music helps babies organize the sound around them into something that is more easily digestible, promoting brain function and development over time," says Vitale.
Caregivers also benefit from music therapy. It can help decrease parents' stress levels and normalize the NICU environment by giving them a chance to engage in "typical" caregiving activities with their child. Parents have told Vitale that participating in music therapy sessions helps them feel calmer, less frustrated and more connected to their baby.
"So much of the anticipated caregiver role is lost during their NICU stay, and supporting families during their hospitalization is one of the most important aspects of my job. I work with parents during kangaroo care, or skin-to-skin contact, in hopes of making them feel at ease and more connected to their baby. I'll also sit with them during difficult feedings to offer not only emotional support, but to help the baby achieve rhythmic sucking," says Vitale.
Music therapists are present to help hospital staff cope with stressful situations, as well. They're available to offer environmental music therapy or play a nurse's favorite song to decrease stress and promote relaxation. Each day, the NICU has "quiet time", two hours when the lights are dimmed and people in the unit are asked to speak in hushed voices to promote a quiet environment for babies, caregivers and hospital staff.
"This is a really wonderful time for environmental music therapy, where I play live music at the nurses' station or for an entire pod. The music, usually guitar, helps regulate the sounds of the NICU and reminds people to speak quietly," says Vitale.
This fall, Vitale wanted to create a project that would raise the spirits of families and hospital staff in the NICU. She adapted the words to Beyoncé's "Single Ladies" to create the music video, "All the NICU Babies." In just a few days, the video has been viewed over 140,000 times.
"I hoped to highlight some of the ways in which music therapy benefits patients, families and staff in the NICU," says Vitale. "This project has not only helped build a sense of community with our parents, but has significantly boosted morale among team members."
No two days are ever the same for Vitale, and she wouldn't have it any other way. She loves working to help improve others' lives. It's the families she meets that motivate her to continue working as a music therapist.
"I love learning from each family with whom I work. They continue to inspire me and make my job so meaningful," says Vitale. "I am always in awe of the resilience and creativity I see in others every day."
Related Posts
Comments
About the Author
Colette A. Harris, health enews contributor, is the public affairs and marketing coordinator at Advocate Lutheran General Hospital in Park Ridge, Il. She holds a Master of Science degree in journalism from Northwestern's Medill School of Journalism and has nearly a decade of experience writing about health and wellness, which are her passions. When she's not writing, you can find her practicing yoga, cooking, reading, or traveling.