Music therapy helps reduce depression in kids and teens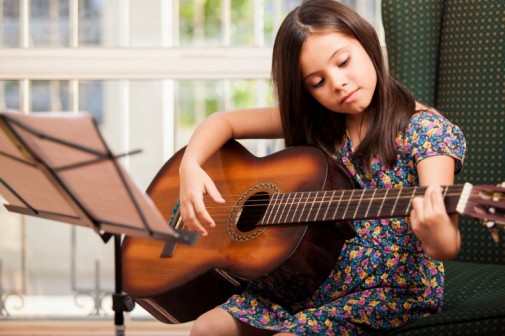 According to the National Institute of Mental Health, about 11 percent of adolescents have depression.
Depression can have life-long negative impacts on children and adolescents, but a recent study says music therapy can be a solution to help reduce symptoms.
The study was led by Professor Sam Porter from the School of Nursing and Midwifery at Queen's University-Belfast in Northern Ireland. Researchers from the university partnered with Northern Ireland Music Therapy Trust to discover that music therapy reduces depression in children and adolescents with behavioral and emotional problems.
Between March 2011 and May 2014, 251 children and adolescents were involved in this study. As a result, each individual was treated with music therapy to improved their self-esteem and reduce depression in their everyday life.
Certified music therapist, Kara Ryan from Advocate Children's Hospital in Oak Lawn, Ill., explains several techniques that are utilized in sessions when helping with children and adolescents experiencing depression:
Music assisted relaxation: This technique is used to decrease physiological symptoms of depression such as heart rate and respiration rate.
Lyric analysis, song writing and recording: The music therapist can select lyrical content that may be useful for the child to explore and the child/teen can play an active role in music composition to express feelings. In a group setting these interventions can improve self -esteem as music creations are acknowledge by peers or collaboration takes place that can reduce feelings of isolation common in depression.
Improvised music making: This technique is used between the therapist and client or in a peer group setting to promote reduced isolation and increase expressive communication skills. The therapist may choose affective themes and participants can use music to express and modulate different emotions.
Clinical psychologist, Dr. Gabrielle Roberts, also from Advocate Children's Hospital, explains that depression can occur as the result of difficult life circumstances; which include problems at home, the loss of a family member, school problems or a series of difficult situations.
"There are a number of circumstances that make cause a child or teen to experience depression and children can develop depression despite strong family support and close relationships," Dr. Roberts says.
Dr. Roberts also states that parents sometimes blame themselves when they have done nothing wrong or did not realize that there was a problem.
"Blaming is not helpful. What is helpful is addressing the problem once it is identified," Dr. Roberts says.
Dr. Roberts provides the following tips for parents on how they can help their child or teen if they have depression:
Listen and be supportive: Make sure your child or teen is not alone.
Improve their mood: Encourage and help your child or teen to a plan a fun activity to do each day.
Reach out to others: A school personnel or other family members are great resources who can provide additional support to the child or teen throughout the day.
Seek treatment: If the symptoms of depression persist, parents should seek help for the child or teen from a psychologist or other mental health professional. It is always better for a parent to have a child or teen evaluated if the parent is unsure of whether the child needs help. Parents can always consult the pediatrician or school counselor for a referral to a mental health professional.
Related Posts
Comments
About the Author
health enews staff is a group of experienced writers from our Advocate Aurora Health sites, which also includes freelance or intern writers.