Go to work or stay home with your sick child?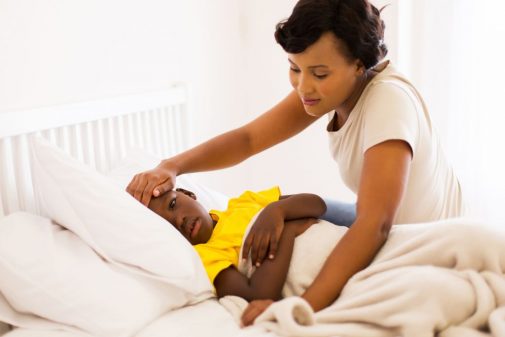 For working parents, it is always a concern. Can I miss work to stay home with a sick child? In fact, a survey conducted by the University of Michigan showed that one-third of parents are afraid they may lose their job or a day's pay when their kids are sick and can't go to child care.
Of those parents surveyed, nearly two-thirds say their child under six did not attend day care because of illness last year. Almost one-half of those parents indicated that they had missed work to care for them. And, one-quarter reported missing work three of more times in one year.
"I understand the challenges," says Dr. Frank Belmonte, a pediatrician and Vice President, Pediatric Population Health for Advocate Children's Hospital. "Since we both work, my wife and I must constantly have a back-up plan should our children get sick."
But, Dr. Belmonte says unfortunately, there are no clear cut rules for when a child should stay home because of an illness. "Certainly if a child has a fever, they need to stay home," says Dr. Belmonte. "That is something they could pass along to other children in a day care setting. But for other, vaguer symptoms, parents just have to make a difficult call based upon their individual child."
Dr. Belmonte offers three tips for parents struggling with what to do when their child begins to show symptoms:
At the first sign of sickness, take your child to their primary care provider. Addressing the illness quickly may prevent a missed day in child care. Also, know where the closest immediate or urgent care facility is located in your neighborhood in case your child needs care after hours.
Always have a back-up plan if your child does become ill. Talk with your employer about the company's stance on working from home in just such an emergency. Line-up sitters, family or friends who can provide support, if necessary.
Keep your child healthy. Practice good hand hygiene and encourage them to keep hands out of their face and mouths so as not to spread germs. It can help in preventing sickness in the first place.
Dr. Belmonte adds, "In the end, always remember that if your child is not feeling well, they won't be learning. Sending them to school any way is not fair to the child nor to the teacher."
Related Posts
Comments
About the Author
Evonne Woloshyn, health enews contributor, is director of public affairs at Advocate Children's Hospital. Evonne began her career as an anchor and reporter in broadcast news. Over the past 20 years, she has worked in health care marketing in both Ohio and Illinois. Evonne loves to travel, spend time with family and is an avid Pittsburgh Steelers fan!