Running toward the doctor's office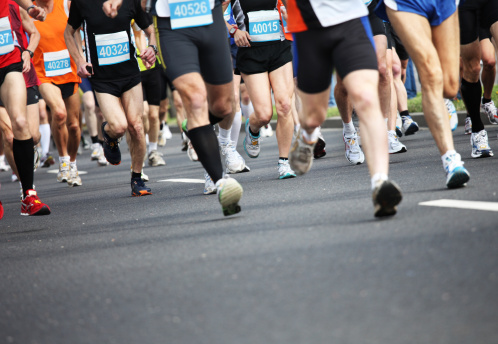 Running has always been a passion for Dr. Mina DeMarco. It started when she was a freshman in high school at Catholic Memorial in Waukesha, Wis., long before it eventually led to her career as a doctor.
DeMarco ran track and cross country. It stoked her competitive nature. She was inspired by her opponents.
"The competition encouraged me to work harder, set higher goals," she says.
Her passion continued in college, where she ran track and cross-county for Mississippi State University. Her coaches also instilled the importance of a healthy lifestyle to help her balance a full class schedule and busy training program.
Along the way, DeMarco dealt with some injuries. When she was working with athletic trainers and physical therapists, she took an interest in sports medicine.
That interest led her to Edward Via College of Osteopathic Medicine in Blacksburg, Va. It was also here that DeMarco met James, the owner of a running shoe store. The two were a perfect match and got married in 2012.
DeMarco and James moved back to Wisconsin to be closer to family in 2015 and DeMarco joined Aurora Health Care as a family medicine physician. They welcomed their son Dean in 2017. Dr. DeMarco continues to be a competitive runner but says, "it is a team effort to continue to make healthy happen."
She admits it was easier to find time to train before becoming a parent, but she relies on her family as her support system and encourages her patients to do the same.
Dr. DeMarco understands the struggles many of her female patients face after having children and "encourages grace".
"During the postpartum period, realize it takes time for the body to recover," Dr. DeMarco says. "Don't give up if it takes a little longer to get back to where you want to be."
She is part of her patients' support system, too, encouraging them to believe in themselves, have patience and ask for help from family and friends.
What keeps Dr. DeMarco inspired? Her support system and her patients. "My patients inspire and encourage me every day with their success stories," she says.
Dr. Mina DeMarco is a family medicine physician at Aurora Medical Center in Grafton, Wis.
Related Posts
Comments
About the Author
Carla Basiliere, health enews contributor, is a seasoned communications professional with over 15 years of experience in the health care industry. Carla has a BS degree in Mass Communications from the University of Minnesota Mankato. In her free time, Carla enjoys spending time outdoors with family and friends.