To become a doctor or a lawyer?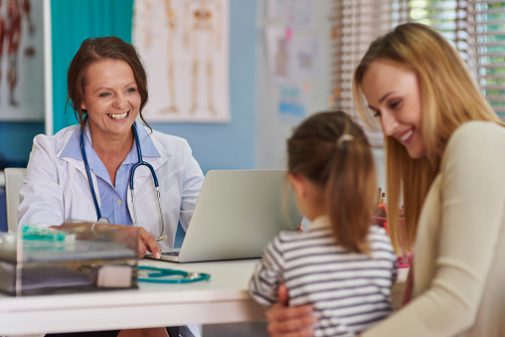 With the first day of law school quickly approaching, Kimberly Watts had a decision to make. Follow the path towards a career in healthcare policy and law or follow her heart and study medicine.
Kimberly made a bold move and chose the latter. She hit the books to complete an additional three years of premed undergraduate coursework before being admitted into medical school and becoming a physician. While in school, Dr. Watts planned to work with adults; pediatrics wasn't something she was interested in. However, during one of her first rotations in pediatrics, Dr. Watts changed her mind. She discovered she enjoyed working with children and their families, so much so that she switched her focus to pediatrics and never looked back.
Within pediatrics, Dr. Watts became especially interested in working with those who had cystic fibrosis, a genetic condition that affects the function of the lungs, GI, and other organ systems.  During long shifts as a resident, Dr. Watts got to know patients living with CF and their families, which furthered her interest.
"The kids I treated were amazing and I was really intrigued by the disease," said Dr. Watts.
Today, Dr. Watts is the director of multidisciplinary clinics for Advocate Children's Hospital and director of the Cystic Fibrosis Center on the Park Ridge campus. There is also a Cystic Fibrosis Center on the Oak Lawn campus. The Cystic Fibrosis Center helps children with CF and their families learn how to manage and cope with the disease through a multidisciplinary approach.
Patients see pulmonologists, respiratory therapists, nutritionists, social workers, and other specialists who can help them learn to manage their disease and live their healthiest life. Dr. Watts is amazed every day by how invested caregivers are in treating the disease in the clinic and helping patients and their family members manage the disease in daily life. The multidisciplinary approach not only helps improve care, but makes all those involved in a patient's case feel like family.
"Not only are we invested in the families and putting them first, but the care team itself is a family," says Dr. Watts. "There is not one part of a patient's care plan that we could do without the other members of the team."
Patients have been coming to the Cystic Fibrosis Center in Park Ridge for over 30 years and Dr. Watts and her team are now taking the lessons learned from the center and expanding their multidisciplinary approach to treating other diseases. Advocate Children's Hospital in Park Ridge already offers a Cleft Palate and Craniofacial Clinic, the Healthy Active Living program, Advocate Children's Esophageal/EOE Center, and the Advocate Children's Martha Washington (Special Needs) Multidisciplinary Clinic, among others.
Each clinic brings a set of specialists together to assess and treat patients. Given the effectiveness of the multidisciplinary approach, Dr. Watts says she hopes more multidisciplinary clinics will be created in the future to help children manage various diseases and issues.
Dr. Watts is excited to be in her new role as director of multidisciplinary clinics and bring together talented and passionate caregivers from across disciplines to help deliver exceptional patient care.
"I enjoy leading and working in multidisciplinary clinics because they provide a family-based approach to specialty care and put the patient at the center," said Dr. Watts.
Related Posts
Comments
About the Author
Colette A. Harris, health enews contributor, is the public affairs and marketing coordinator at Advocate Lutheran General Hospital in Park Ridge, Il. She holds a Master of Science degree in journalism from Northwestern's Medill School of Journalism and has nearly a decade of experience writing about health and wellness, which are her passions. When she's not writing, you can find her practicing yoga, cooking, reading, or traveling.