What is "Dragon's Breath"?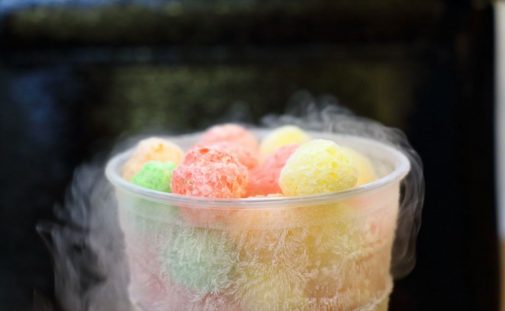 A growing trend called "Dragon's Breath" adds a shocking fog-like twist to food and risk of serious injury to anyone eating, drinking or handling it. Dragon's Breath is a frozen treat that consists of colorful cereal puffs dipped in flavors and liquid nitrogen. Once you put a puff into your mouth, vapor emanates from your nose and mouth due to the liquid nitrogen, hence the name Dragon's Breath.
Although this fad allows you to temporarily step into the body of a dragon, liquid nitrogen mixed with cereal puffs is more than just the aesthetic experience. In August 2018, the Food and Drug Administration released a warning statement on the dangers of Dragon's Breath.
How cold is liquid nitrogen? According to researchers at the University of Wisconsin-Madison, liquid nitrogen is 320 degrees Fahrenheit below zero.
"Using liquid nitrogen in food preparation allows for a very rapid freezing process due to the extremely low temperature of liquid nitrogen," says Dr. Pilar Ortega, an emergency medicine physician at Advocate Illinois Masonic Medical Center in Chicago.
"The smoke-like vapors that are released by the liquid nitrogen create a visual effect that can be appealing and exotic, but consuming foods or drinks in which the liquid nitrogen has been applied immediately prior to eating or drinking can be very dangerous."
Dr. Ortega explains these cold temperatures can cause burns to internal organs, including the mouth, throat and esophagus. Burns are not to be taken lightly, as internal burn injuries are often very serious and even life-threatening.
Another side effect? Because some cold vapors can be released during consumption, breathing in vapors at extremely low temperatures can cause internal damage to the airways, especially in patients with lung problems like asthma.
"Similar to drinks or foods in which a flame is applied tableside or immediately prior to consumption, people should be careful that flames have died down completely so as not to burn themselves when eating or drinking. However, liquid nitrogen-prepared foods may still be at dangerously cold temperatures even after the 'smoke vapors' have gone away," she says.
Signs of injury after consumption can include difficulty breathing, wheezing, trouble or pain with swallowing and chest or throat pain. Dr. Ortega says it's not recommended for people to consume products that have been treated with liquid nitrogen immediately prior to being served.
If you or a loved one experience injuries from Dragon's Breath or another liquid-nitrogen food or drink, please do not hesitate to find a physician near you, and if needed, dial 911.
Related Posts
Comments
About the Author
Kelsey Andeway, health e-news contributor, is a public affairs intern at Advocate Health Care in Downers Grove. She is a senior at Loyola University Chicago earning a bachelor's degree in Communication Studies with a minor in Dance. In her free time, Kelsey enjoys dancing, baking, and taking long walks with her Chocolate Lab.