The warning sign that led to a brain tumor diagnosis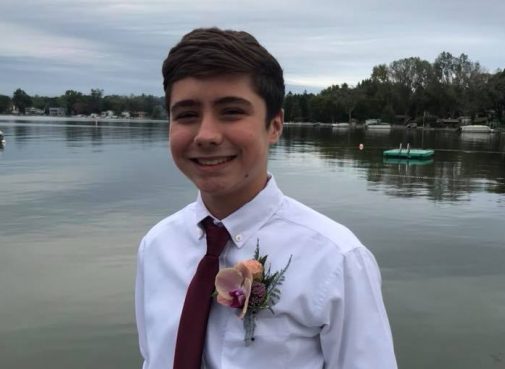 When Justin began having headaches during the summer of 2017, a brain tumor was the furthest thing from his family's mind. They thought dehydration could be the cause or that puberty was triggering the sudden onset of headaches for Justin, who was starting eighth grade in the fall.
Once school began, he had headaches every day. On the fourth day of school, he went to the nurse's office for the pain. Thinking the issue could be his eyes, the nurse suggested his mother, Amy, take him to an optometrist, who noted that Justin's optic nerves were swollen. The swelling indicated a need for further testing to determine the cause. Justin had an MRI that showed a mass in his brain.
Justin was taken to the Pediatric Intensive Care Unit (PICU) at Advocate Children's Hospital in Park Ridge, Ill., within 30 minutes of the family learning of the mass. In the PICU, the family met with Dr. Robert Kellogg, a pediatric neurosurgeon at Advocate Children's Hospital, to learn more about his condition.
"From the first time we met him, Dr. Kellogg was very reassuring, and we were instantly comfortable with him," says Amy. "One of the first things he told us was that we didn't do anything wrong, we didn't miss any symptoms and that we did what any parent would have done. That made us feel better right away."
Dr. Kellogg ordered a second MRI, and further testing showed that Justin had hydrocephalus, a condition where too much water in the brain causes pressure, and that the hydrocephalus was caused by a pineal region tumor.
"Pineal region tumors of all types account for about three percent of pediatric brain tumors," says Dr. Kellogg.
Dr. Kellogg operated on the tumor shortly thereafter. During surgery, Dr. Kellogg used a minimally invasive endoscopic technique to biopsy the tumor, which showed that the mass was a pineal region germinoma, which is the most common type of pineal region tumor and accounts for 40 to 60 percent of these tumors.
"When Dr. Kellogg called to tell us the results, he said this is probably one of the best things it could possibly be. He told us there is a proven protocol for handling this and that this tumor responds very well to chemotherapy and radiation," says Amy. "He told us we can take care of this."
The family met with Justin's oncology team next. The team, led by Dr. William Goodell, devised a treatment plan for Justin that included four rounds of chemotherapy and 20 proton radiation treatments. The treatment plan was intense, but Justin persevered.
"Justin was very positive the whole time. He missed almost an entire year of school, practically all of eighth grade, but finished the year strong," says Amy. "He was able to graduate and move on to high school, where he is currently a freshman."
Since his treatment ended, Justin has had three scans to assess the tumor, and all have come back clear.
"Justin did really well with both the surgery and chemotherapy. Today, there is no trace of his tumor remaining on his MRI scans," says Dr. Kellogg.
At the beginning of 2019, the family was granted Justin's Make-A-Wish request to visit Hawaii with his mom, dad and sister. They traveled to the Big Island where they ziplined, attended a luau and enjoyed the time together as a family.
"It was nice to know that he's done with treatment and that we had this family time to go and enjoy and just relax and not think about doctor's appointments, treatments or school," says Amy.
Life is returning to normal for the family. Justin plays baseball, enjoys video games and plays the saxophone in marching band and pep band. Amy is happy to share the family's story if it helps just one other person going through the same struggles.
"When Justin was first diagnosed, I was looking for anyone who had the same tumor," says Amy. "I'm just happy to tell his story and share it if it will help anyone or give them hope that things can turn around."
Related Posts
Comments
About the Author
Colette A. Harris, health enews contributor, is the public affairs and marketing coordinator at Advocate Lutheran General Hospital in Park Ridge, Il. She holds a Master of Science degree in journalism from Northwestern's Medill School of Journalism and has nearly a decade of experience writing about health and wellness, which are her passions. When she's not writing, you can find her practicing yoga, cooking, reading, or traveling.