Doctors: Why we do what we do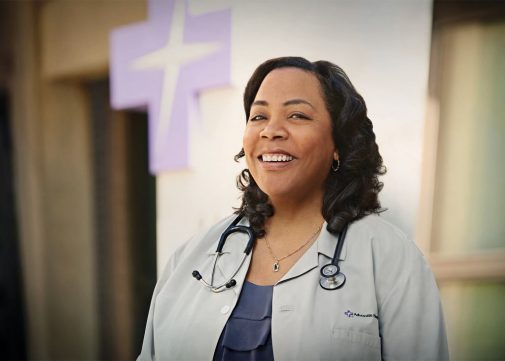 health enews asked our doctors, "Who or what inspired you to become to a physician?" Here are their responses:
Dr. Mohammed Samee, internal medicine physician at Advocate Illinois Masonic Medical Center in Chicago:
"My mom had a very strong influence in my decision to become a physician," Dr. Samee says. "My younger brother was diagnosed with hemophilia a few days after he was born. Because of that, my mom went back to school to become a registered nurse." Click here to read Dr. Samee's story.
Dr. Julie Taylor, family medicine physician at Advocate Trinity Hospital in Chicago, Ill.:
"When my father suffered a heart attack in our home, the time it took for the ambulance to come seemed so long. I knew when they were working on him, my father was not coming back. Because I did not have the knowledge I needed to help my father, I resolved right then that I would practice medicine one day." Read Dr. Taylor's story here.
Dr. Aamir Memon, nephrologist at Advocate Sherman Hospital in Elgin, Ill.:
"My dad inspired me, as he was a physician, and I saw firsthand how everyone in the community respected him so much. My dad was like a superstar, and they and my family would only use him as their physician. From the time I was little, there was nothing else I wanted to be except a doctor and taking care of others." Read Dr. Memon's story here.
Dr. Neal Sawlani, structural heart cardiologist at the Advocate Heart Institute at Lutheran General Hospital in Park Ridge, Ill.:
"Looking back, I believe that my mom was a big influence in the position I am in today. Growing up, she volunteered her time to read to children and showed me how important it was to care for other people. Early in my life, I saw the impact she had on children and how rewarding it was to work with other people in our community. It occurred to me then that being a physician would be an amazing way to connect with people and impact their lives in a meaningful and positive way." Click here to read Dr. Sawlani's story.
Dr. Gregory Caronis, surgeon with Advocate Medical Group Orthopedics and Advocate Condell Medical Center in Libertyville, Ill.:
"God made you perfect the first time, and I'm not that good," is something I frequently say when talking to my patients about the risks and benefits of a surgical procedure. That statement, in many ways, exemplifies my underlying drive and motivation in deciding to become an orthopedic surgeon. While I may not be able to restore my patients to a perfect, pre-injury state, it is the goal that motivates my work." Read Dr. Caronis' story here.
Dr. Robert Kellogg, pediatric neurosurgeon at Advocate Children's Hospital in Park Ridge, Ill.:
"I really wanted to be a scientist and was very interested in organic chemistry in college. I ultimately decided on medicine because I wanted the personal relationships you build with patients over time."
Dr. Gaile Sabaliauskas, director of the cardio-oncology program and co-director of the cardio diagnostics department at Advocate Heart Institute at Good Samaritan Hospital in Downers Grove, Ill.:
"The decision to go into medicine came to me in college. I was a physics major and thought I would be working with nuclear reactors/particle accelerators. After volunteering at a hospital, I decided that I wanted to work with people and not atomic matter. I was pre-med and furthered my training at Loyola University's medical school, where I stayed to complete my internal medicine residency and cardiology fellowship. I had excellent mentors in medical school who were cardiologists, and they peaked my interest in the field. I enjoy all the different aspects of patient care that the field of cardiology offers. I became interested in starting a cardio-oncology program at Good Samaritan after returning to work after a nine-month hiatus for breast cancer treatment, which included chemotherapy, radiation and several surgeries. I wanted to make sure that people's hearts were protected as they went through their cancer treatments that could potentially cause cardiac side effects."
Dr. Nagui Sabri, director of the cardiac cath lab and director of the cardiology fellowship program at the Advocate Heart Institute at Lutheran General Hospital in Park Ridge, Ill.:
"I chose cardiology because I love having the ability to intervene and make a difference in a patient's health. Many patients young and old are still living and enjoying their life and family, thanks to interventional cardiology. Teaching has always been a passion of mine since the beginning of my career. It is amazing to see my trainees learn and grow to become independent physicians."
Dr. Frank Lutrin, cardiac surgeon at the Advocate Heart Institute at Lutheran General Hospital in Park Ridge, Ill.:
"I love the work that I do. I was originally planning on going to be a hepatobiliary surgeon. However, after my cardiac surgery rotation, I knew this is where I needed to be. I love the balance of intricate anatomy and being able to manipulate a patient's physiology right in front of my eyes. No other field of surgery has this balance."
Dr. James Weedon, pediatrician at Advocate Children's Hospital in Park Ridge, Ill.:
"As a boy, I really wanted to be a pilot. However, my mom thought it would be too dangerous. Then when I was a teenager, I volunteered at a summer camp for children with disabilities. One week of this camp was all it took for me to find my calling for the work and life I wanted to have."
Dr. Raja Chattevrji, OB/GYN surgeon and vice president of medical staff at Advocate Sherman Hospital in Elgin, Ill.:
"I wanted to do OB/GYN from the start. I was enamored by the minimally invasive surgery using the laparoscope. I love to see how quickly patients recover compared to open surgery. When the robot was first introduced, I was one of the first users for similar reasons. I love cutting-edge procedures, gadgets and minimally invasive surgery, hence why the robot fits perfectly with what I do!"
Dr. Manoj Duggal, medical director of the cardiac electrophysiology lab at Advocate Christ Medical Center in Oak Lawn, Ill.:
"I chose cardiac electrophysiology as my specialty because most cardiac conditions are not curable, except for certain cardiac arrhythmias, which I am able to cure with ablation. Improving my patients' health and curing diseases is what provides me the most joy in this position."
Dr. Amy Francis, developmental pediatrician at Advocate Children's Hospital in Park Ridge, Ill.:
"My mother was a special needs teacher for 25 years, and her dedication to even the most academically challenged students was inspiring. As a medical student, I found joy in caring for the smallest patients and decided to pursue pediatrics."
Dr. Paul Silverman, chief of interventional cardiology at the Advocate Heart Institute at Christ Medical Center in Oak Lawn, Ill., and co-associate medical director for Advocate Medical Group Cardiology:
"My grandfather passed away suddenly from a heart attack when he was 62 years old. I chose to become an interventional cardiologist because of the ability to make an immediate impact on a patient. I love the satisfaction of the procedures I do and the ability to have a long-term relationship with patients afterwards and follow them for many years."
Dr. Michael Anderson, emergency room physician at Advocate Trinity Hospital in Chicago, Ill.:
"I became a doctor because I wanted to help people, and now I'm in a more administrative role, and it allows me the opportunity to help even more people by improving our systems of care delivery."
Dr. Rebecca McFall, pediatric hematologist/oncologist at Advocate Children's Hospital in Oak Lawn, Ill.:
"I always wanted to be a doctor. Ever since I was a kid. I had a close childhood friend who had leukemia when I was a teenager. He is a long-term survivor and my inspiration."
Dr. Shailesh Gandhi, pain management specialist at Advocate South Suburban Hospital in Hazel Crest, Ill.:
"There is no greater satisfaction than relieving a person's personal ailment and seeing the look of gratitude on their face. Pain can be difficult, but I feel that our clinic goes above and beyond to assist patients with their conditions."
Dr. Ajay Bajaj, gastroenterologist at Advocate Good Samaritan Hospital in Downers Grove, Ill.,:
"I was inspired to become a doctor by many aspects of my childhood. Growing up, I loved ​reading about science, and I was fascinated by the thought that I could have a job centered entirely around helping people in need. I was also inspired by my parents, who were both physicians. My father served as India's Director General of Health Services (the equivalent of Surgeon General in India), and ​he was one of the kindest and most compassionate clinicians I have encountered. My father was also a professor of anatomy and had a reputation for being a wonderful professor. He inspired me to contribute to medical education and to nurture budding physicians. My mother had a diverse scope of practice out of our home and used to show me interesting clinical findings in her patients, like splenomegaly secondary to malaria. With all of this inspiration, I was motivated to become a gastroenterologist because of the diversity in pathology, the opportunity to implement novel technology and the enlightening interactions I have with patients on a day-to-day basis. I am happy to be in a profession where I can make such a great difference."
Dr. Josh Sherman, emergency medicine physician with Advocate Medical Group:
"In the spring of 2000 (at the age of 12), I met a physician who, unbeknownst to me at the time, would change my life forever. Though a surgeon by training, his personal and professional reach extended far beyond the walls of the hospital's wards and operating rooms, into areas that most people – physicians or otherwise – would not voluntarily venture. There, in my beloved neighborhood of subsidized housing, he saw opportunity and endless potential. He and a group of like-minded physicians from the storied Charity Hospital of New Orleans developed a program that allowed some of the most "at-risk," marginalized and often forgotten about kids (like myself) to explore health care from a perspective other than that of the patient." Read Dr. Sherman's full story here.
Related Posts
Comments
About the Author
Crystal Olsen, health enews contributor, is a coordinator of public affairs for Advocate Health Care in Downers Grove. She earned a Master's degree in Political Science from the University of Illinois at Urbana-Champaign, and has her Bachelor's in Political Science and Communication from the same institution. Crystal has worked in government, politics, and public affairs for nearly a decade. Coming from a family of journalists, she enjoys reading the paper and staying involved in her community. Crystal resides in Chicago and can often be found biking around the neighborhoods looking for a new record shop to frequent.