Chicago Cubs welcome young patients to Spring Training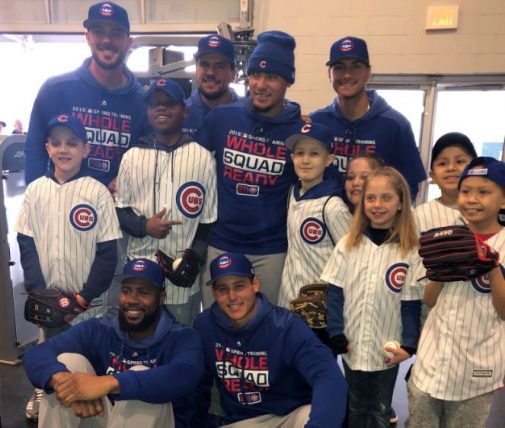 In a flip of the usual script, professional baseball players were in the role of doting fans, eager to earn high fives and photos with a heroic group of Chicagoland kids.
Seven Advocate Children's Hospital patients and their families headed to Mesa, AZ. on Thursday for a whirlwind weekend with their favorite team. The children – who range in age from 9 to 13 – are battling various medical conditions from cancer to congenital heart defects to sickle cell disease.
"We can all relate," said Deana Pachowicz, whose son Joey was diagnosed with acute lymphoblastic leukemia in May 2018. "We're brought together in a way no one should be brought together. It's comforting. You're not alone."
It was a week full of surprises, beginning on Monday when the group – gathered in Chicago just a stone's throw from historic Wrigley Field – learned from pitcher Kyle Hendricks via video message that they should pack their bags for the upcoming trip.
"Just to give him this escape, it means the world to us," Tiffany Holiday said of her son Jonathan, 13, who sometimes battles excruciating pain associated with sickle cell anemia, just after he learned the news.
Met by roaring fans on the airport concourse for a sendoff celebration, the crew flew courtesy of American Airlines to Arizona on Thursday before being met by infielder David Bote and team mascot Clark the Cub upon checking into the hotel. On Friday, the entire team welcomed the young fans to the Spring Training facility, where they shared stories, got some autographs, took photos and talked baseball – and life – with manager Joe Maddon.
"Joey just was not feeling good, and he's so much better now," Pachowicz said. "As soon as we got off the shuttle and he saw David Bote, he just was so excited. That was just the beginning of him being so happy. Joey's favorite highlight was the locker room experience. All the players slapped their hands – that was huge for all of them."
The twists continued Saturday. Cheered by 15,000+ fans in the stadium, each of the kids took the field just before the game began and were greeted at their respective positions by Cubs starters. On his birthday, Dr. Michael Cappello, vice chair of pediatrics for Advocate Children's Hospital and a chaperone for the trip, threw out the first pitch. And Joey and friend Billy Southerton, both age 11, performed with their fathers Jason and Peter a passionate rendition of "Take me out to the ballgame" during the 7th inning stretch.
"There are things that we can do as physicians – we can give a pill, we can do a procedure, but that's just fixing one part of the medical condition," said Dr. Cappello. "But the overall situation which is living with you all the time, that's helped by being together as a family, by having a good time, by laughing, by going to Cubs games. Things like this make all the difference in the world for these kids."
"It was a totally unexpected, amazing surprise. It made his day, and he's truly in awe of all of this," said Tina Southerton, Billy's mother, on his pre-game trip to third base. "Being able to go out on the field and meet Kris Bryant! This whole entire weekend is just a wonderful experience, and I think they've met some lifetime friends along the way."
The Cubs beat the Brewers 8-4, and members of the group wrapped their arms around each other and sang "Go Cubs, Go" just hours before their flight home.
"Surprise after surprise after surprise, and the kids have been having a blast," said Edelia Martinez, whose son Damian has rhabdomyosarcoma, a bone and tissue cancer. "The tiniest break that we get, we enjoy it. Sometimes I hold back because I don't feel like other people understand what we go through, but when we're here together with other families that go through the same thing, it's like I may have just met them yesterday, but I feel like I know them already. Just to get away and enjoy…and have a distraction, it's pure happiness."
This is the third year that Advocate Children's Hospital, the Cubs and American Airlines have teamed up to offer this Spring Training trip to a group of courageous young patients and their families. Fannie May, Jay's Hope, Majestic, David Sunflower Seeds, Garrett Popcorn and Dunkin Donuts also contributed to the experience.
Related Posts
Comments
About the Author
Adam Mesirow, health enews managing editor, is media relations director of Advocate Health Care and Aurora Health Care. Securing high-profile media placements for more than a decade, he loves to tell a good story. Adam earned a Bachelor's degree in Public Policy from the University of Michigan. He lives in Chicago and enjoys playing sports, reading TIME magazine and a little nonsense now and then.