Articles by "Adam Mesirow"
Adam Mesirow, health enews managing editor, is manager of public affairs at Advocate Health Care in Downers Grove. A media relations specialist with more than seven years' experience securing high-profile media placements, he loves to tell a good story. Adam earned a Bachelor's degree in Public Policy from the University of Michigan. He lives in Chicago and enjoys playing sports, reading TIME magazine and a little nonsense now and then.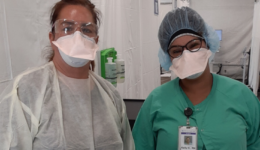 Meet a few of the doctors and nurses who are making a difference on the front lines.