Twin's diagnosis prevented her sister from developing the same cancer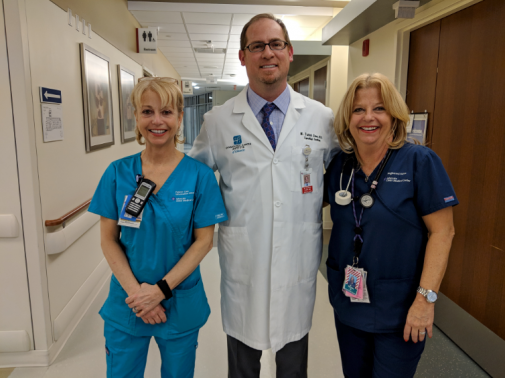 Identical twins Renee Zemovich and Regina Remezas obviously have a lot in common – same eyes and hair color, childhood memories, shared hobbies and same employer – Advocate Christ Medical Center. They even have encountered the same medical conditions through the years.
Renee, who works in patient care on the Surgical Trauma Intensive Care Unit, was diagnosed with stage 2 ovarian cancer at the age of 56. As a result, her twin sister Regina, who works as a registered nurse on the Obstetrics Unit, eventually had a procedure that revealed a pre-cancerous lesion that was developing on her fallopian tube.
Before her diagnosis, Renee led a healthy lifestyle, exercised on a regular basis and even ran 5k races. During a regularly scheduled OBGYN appointment, she mentioned to her doctor that she was experiencing a pulling sensation on her right side. An ultrasound was ordered which showed a mass on her ovary.
Renee was referred to Dr. M. Patrick Lowe, gynecologic oncologist at Advocate Christ Medical Center in Oak Lawn, Ill., who performed a hysterectomy and removed a 14-centimeter mass. Following surgery, Renee received six rounds of chemotherapy.
Having her sister work on the same unit where Renee would recover from her surgery was comforting.
"Nurses always seem to have the answers, so it was nice to have Regina close by to ask questions during the process," said Renee.
Since identical twins share 99.9 percent of their genes, they are both vulnerable to the same diseases. Dr. Lowe ordered genetic testing for Renee and found a BRCA 2 mutation that predisposes her to developing breast cancer and ovarian cancer.
Knowing that Regina would carry the exact same genes and mutation, Dr. Lowe ordered genetic testing for her. He found that she carried the same mutation.
A month after her sister's surgery, Regina underwent a procedure to remove her ovaries.
"I was nervous going into surgery," said Regina. "I wasn't sure what Dr. Lowe was going find."
Dr. Lowe found a premalignant lesion on her fallopian tube. Fortunately, it was not invasive ovarian cancer. However, the premalignant lesion would have eventually developed into ovarian cancer. It was just a matter of time.
"In a sense, Renee's diagnosis of ovarian cancer prevented her twin, Regina, from developing the same cancer," said Lowe.
Dr. Lowe credits Renee for recognizing that something was wrong and taking immediate action.
"Renee's awareness of the symptoms helped us to find the ovarian cancer in an early stage, which led to a better outcome," he said.
Ovarian cancer symptoms include abdominal bloating, pressure in the pelvis or lower back, frequent need to urinate and constipation.
More than two years after their diagnosis and treatment, both Renee and Regina are cancer-free and living healthier lifestyles.
"We focus on living a different lifestyle. We try to live stress free and eat right," said Renee, who has since adopted a plant-based diet.
Both Renee and Regina advocate for genetic testing that can determine a patient's risk of developing certain diseases.
"Women who have a family history of cancer really need to get checked out and stay on top of their health. I was healthy before all of this happened. Never in a million years would I have suspected that I'd be diagnosed with cancer. I was feeling good and active," said Renee.
Related Posts
Comments
About the Author
Johnna Kelly, healthe news contributor, is a manager of public affairs and marketing at Advocate Christ Medical Center in Oak Lawn. She is a former newspaper reporter and spent nearly 10 years as a public relations professional working for state and county government. During her time as a communications staffer for the Illinois General Assembly, she was integral in drafting and passing legislation creating Andrea's Law, the nation's first murderer registry. In her spare time, she volunteers at a local homeless shelter, enjoys traveling, photography and watching the Chicago Bulls.