Fighting opioid addiction in the emergency room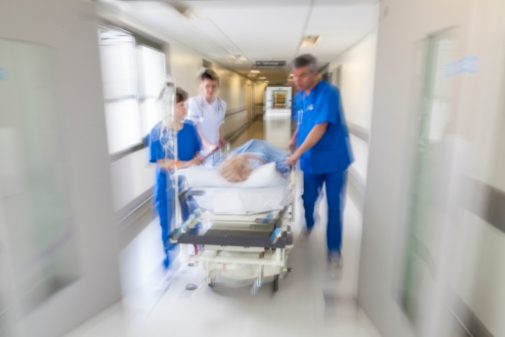 In 2017, opioid-related overdoses claimed the lives of 2,199 Illinoisans, the state says. That's nearly twice the number of homicides and more than double the number of those killed in car accidents in Chicago. This total nearly doubles the number of Illinois lives claimed by overdoses in 2013.
For Wisconsin, it was 916 deaths. That's more than the number killed in car crashes, according to the state.
But there's hope.
Dr. Ronald Lawton, an emergency physician at Advocate South Suburban Hospital, in Hazel Crest, Ill., is leading the charge to make sobriety a realistic pursuit for patients with opioid addictions. And Dr. Diana Bottari, a pediatric pain management specialist at Advocate Christ Medical Center and Advocate Children's Hospital, both in Oak Lawn, Ill., heads an initiative that offers life-saving, naloxone overdose reversal kits to patients who present experiencing an overdose or to their family member.
Dr. Lawton and his specially-trained emergency physician colleagues administer Medication Assisted Treatments (MAT) to patients who come to the Advocate South Suburban Emergency Room seeking treatment of opioid addiction and relief from painful withdrawal symptoms.
Medication Assisted Treatments makes quitting a real possibility by using the FDA-approved medications Methadone, Buprenorphine and XR-Naltrexone to effectively prevent withdrawal symptoms, relieve or reduce drug cravings, and block the effects of taking opioids.
These medications help the patient feel "normal" as the patient completes the stages of drug withdrawal or is gradually weaned from the drug. As a result, patients can focus on addressing factors that often stand in the way of sobriety –counselling needs, employment and housing, instead of the physically-challenging aspects of quitting.
Before receiving MAT, Advocate South Suburban patients must agree to enroll in a formal treatment program – including the hospital's formal rehabilitation partner, the South Suburban Council – to ensure follow-up care. But not every OUD patient who comes to the Emergency Room is open to enrolling in a treatment program.
"As emergency physicians, we touch many of those affected by the opioid crisis, whether it's after overdosing or during a painful withdrawal period," Dr. Lawton says. "Regardless of whether they are in the form of prescribed painkillers or illicit drugs, opioids are highly addictive and nearly impossible to overcome through abstention treatments, like 12 Steps, alone."
Because the highest risk of a fatal overdose follows a non-fatal overdose, Dr. Bottari is heading an Advocate initiative that provides free, Naloxone overdose response kits to patients with an opioid addiction or have experienced an opioid overdose. The initiative is being piloted at Advocate Christ Medical Center and Advocate Children's Hospital – Oak Lawn.
"While this program is not designed to serve as a substitute for rehabilitation for patients, it will allow a person experiencing an opioid overdose to live another day and hopefully to find the help they need," says Dr. Bottari, who is Chair of the Advocate Legacy Opioid Task Force–Prevention Arm. "If we simply supply an addict or first-time user with a prescription for naloxone, should another overdose event occur, the chances he or she proactively filled that prescription are small. It's imperative that the patient leaves our hospital with naloxone in hand."
Naloxone (generic Narcan) is a medication used to block the effects of opioids. It works by reversing the depression of the central nervous system and respiratory system caused by opioids. Naloxone helps in acute opioid overdose by reducing respiratory or mental depression due to opioids.
Related Posts
Comments
About the Author
Cassie Richardson, health enews contributor, is regional coordinator on the Public Affairs team for Advocate Health Care and Aurora Health Care. She has more than 10 years of experience in health care communications, marketing, media and public relations. Cassie is a fan of musical theater and movies. When she's not spreading the word about health and wellness advancements, she enjoys writing fiction.