What are "tulip fingers"?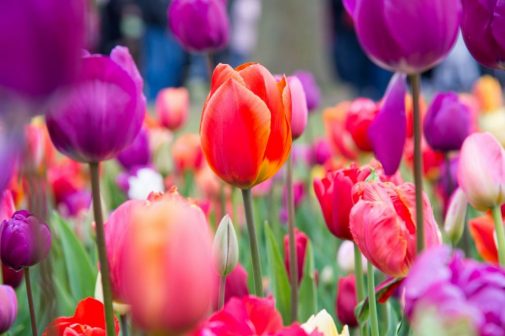 Spring is tulip season in much of the country, and all the beautiful blooming often motivates people to join in by planting flowers of their own.
While planting tulip bulbs in the spring may not result in any flowers this year, it could lead to a painful, irritable rash known as "tulip fingers".
Tulip fingers is a form of allergic contact dermatitis, a reaction that causes skin redness and inflammation. A chemical, tuliposide, in the outer layer of the tulip bulbs is responsible for this allergic response. Repeated and prolonged exposure to the bulbs, and the tuliposide on them, can cause the irritation and pain.
There is evidence that some types of tulip are more likely to cause tulip fingers than others. Preludium, Rose Copeland, Clara Butt and Le Nôtre varieties are types more likely to cause allergic reactions.
Dr. Sandra McGowan, a family medicine physician at Advocate South Suburban Hospital in Hazel Crest, Ill., says the best way to deal with tulip fingers is to avoid them or protect your hands.
"This form of contact dermatitis reaction should heal within a few days, but future contact with tulips could cause the effects to come back," she says. "Wearing gloves while handling tulips is the best way to protect the skin and prevent tulip fingers."
Dr. McGowan also advises keeping tulip bulbs out of the reach of small children.
"Tulip bulbs are just the right size and shape to entice toddlers and young kids to try and eat them," she says. "While they aren't lethally poisonous, especially at small doses, eating the bulbs can cause vomiting, nausea, shortness of breath, weakness, sweating and heart palpitations for a few days."
To be safe, Dr. McGowan recommends you seek medical attention if you suspect a small child has eaten tulip bulbs.
Related Posts
Comments
About the Author
Nate Llewellyn, health enews contributor, is a manager of public affairs at Advocate Medical Group. Nate began his career as a journalist and builds daily on his nearly 20 years of writing experience. He spends most of his free time following his wife to their two sons' various activities.