Eat your vegetables, and change your life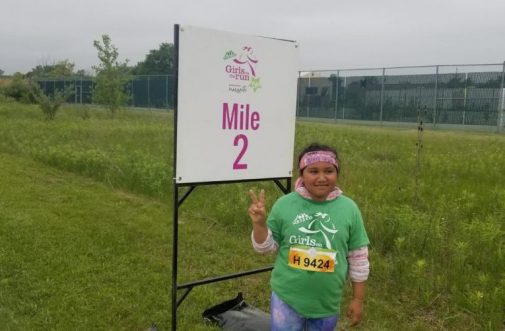 Sandra, 9, was always an active kid. She loves gymnastics, ice skating, participates in Girls on the Run and enjoys playing outside. When her mom, Janet, was pregnant with Sandra's little sister last year, finding the time to be active became a challenge. Janet didn't feel well throughout her pregnancy, which made taking Sandra to her scheduled activities all but impossible.
Earlier this year, Janet took Sandra in for her annual physical, and the doctor found that Sandra had gained ten pounds in nine months because of decreased physical activity. Dr. Cathy Joyce suggested that Janet enroll Sandra in the Healthy Active Living Program at Advocate Children's Hospital in Park Ridge to help Sandra and her family gain new, healthier eating habits and create a plan for incorporating more exercise into their daily lives. The Healthy Active Living Program focuses on behavior change and teaching families to follow the 5-2-1-0 model every day, which includes eating five servings of fruits and vegetables, engaging in less than two hours of screen time, participating in one hour or more of physical activity and having zero sugar-sweetened drinks and water instead. The program also teaches families about proper portion sizes, mindful eating, emotional eating and avoiding distracted eating.
"Our emphasis is on healthy habits and behaviors, and how to encourage families to adopt a healthier and active lifestyle," says Dr. Matthew Smiley, a pediatrician and medical director of the Healthy Active Living Program in Park Ridge. "Most importantly, we focus more on behaviors than 'weight'. We promote having a positive body image and high self-esteem, regardless of your weight status."
At their first appointment with Dr. Smiley, he talked to Sandra and her mom about healthy eating habits. He showed them a portion plate that laid out how much of their breakfast, lunch and dinner should consist of fruits, vegetables, healthy fats, whole grains and protein. The plate opened the family up to a whole new way of approaching eating and preparing food.
"I didn't grow up knowing about portions and needing a variety of fruits and vegetables," says Janet. "Now we use the plate for dinner every night to make sure we're eating well."
Sandra has always loved eating her mom's vegetable soup, and since beginning the Healthy Active Living Program, she now also enjoys fish, turkey and different soup broths. Her favorite vegetables are carrots and broccoli, and she's partial to apples and strawberries. She also loves when her parents make Pozole and add carrots, corn, spinach and avocado to this dish.
Since participating in the program, Janet has lost 12 pounds, and Sandra has lost weight, as well. While weight loss is a goal of the program, Sandra's biggest takeaways from her time with Dr. Smiley and the nutritionists and counselors involved in Healthy Active Living have nothing to do with the numbers on the scale.
"It's not about losing weight and being skinny. It's about feeling better and being healthy," says Sandra, who hopes to pass on her newfound knowledge about nutrition and exercise to her dad and little sister so the whole family can be healthy.
Janet is pleased with the positive changes the family has put in place. They now add vegetables to every meal, and Sandra is back on track with her exercise routine. She's returned to gymnastics, took up ice skating and will participate in her second 5k with Girls on the Run later this year. Sandra says her little sister also keeps the family active. At nine months old, she's already walking and beginning to run around. While Sandra didn't feel unhealthy before her mom's pregnancy, she feels much better today.
"Now that we're living this healthier lifestyle, I feel like I can be stronger than the person I was before my mom was pregnant," says Sandra.
Related Posts
Comments
About the Author
Colette A. Harris, health enews contributor, is the public affairs and marketing coordinator at Advocate Lutheran General Hospital in Park Ridge, Il. She holds a Master of Science degree in journalism from Northwestern's Medill School of Journalism and has nearly a decade of experience writing about health and wellness, which are her passions. When she's not writing, you can find her practicing yoga, cooking, reading, or traveling.