What is craniosynostosis?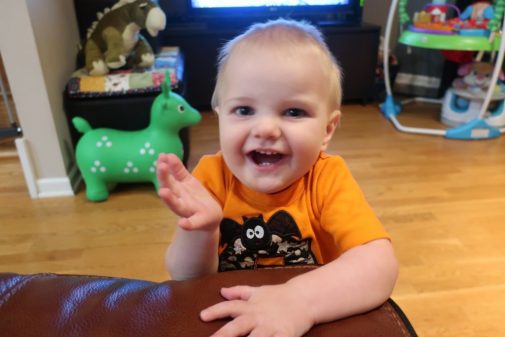 Allen's journey began when he was just four months old.
During a routine monthly check-up, Allen's pediatrician told his parents, Darcy and Matt, that Allen's head was developing a long and narrow shape and was something they needed to watch.
Allen's head continued to develop in this way, and at six months, Darcy and Matt took their son to see Dr. Sanjay Naran, a pediatric plastic and reconstructive surgeon at Advocate Children's Hospital in Park Ridge, Ill. Dr. Naran suspected that Allen had craniosynostosis, a birth defect that causes the joints between the bones in the skull to fuse together prematurely during infancy instead of in adulthood. A CT-scan confirmed the diagnosis.
In Allen's case, his joints were fusing in a way that left no room for his brain to grow. To reduce the pressure on his brain and allow room for it to grow, Allen needed to have surgery to un-fuse the bones in his skull.
The surgery, a posterior cranial vault expansion, lasted nearly six hours and involved Dr. Naran, as well as pediatric neurosurgeon, Dr. Robert Kellogg at Advocate Children's Hospital.
"The surgery involved removing the affected suture and bones and then recontouring them all to form an improved cosmetic shape while also providing more space for the brain to grow," says Dr. Kellogg
Following surgery, Allen is doing great. He needs to see Dr. Naran and Dr. Kellogg twice a year to make sure his skull continues to develop normally. He also sees an ophthalmologist who can detect if any pressure develops on the brain.
Darcy can't believe how well Allen has recovered. Right after the surgery, his parents had to be extra careful that Allen didn't hit his head, but now he is just like any other kid. He's achieving all his developmental milestones and his parents are grateful everything turned out so well.
"You would never even know he had surgery, except for the scar on his head," says Darcy.
Today, Allen loves to move around. He enjoys climbing on anything he can, sledding during the winter, music, and loves watching Wheel of Fortune. Four months post-surgery, the family took a trip to Disney World, which Allen thoroughly enjoyed, especially when he got to play in the pool.
Learning that your child needs surgery is scary for every parent, but knowing your child is in good hands across the board from the surgeons performing the operation to the nurses to the volunteers who provided dog therapy for Allen, can lessen the stress and fear associated with a procedure.
"Do your research and feel comfortable and confident with the doctors you choose, which we 100 percent did from the minute we met them both," said Darcy. "We knew Allen was going to be in good hands."
Related Posts
Comments
About the Author
Colette A. Harris, health enews contributor, is the public affairs and marketing coordinator at Advocate Lutheran General Hospital in Park Ridge, Il. She holds a Master of Science degree in journalism from Northwestern's Medill School of Journalism and has nearly a decade of experience writing about health and wellness, which are her passions. When she's not writing, you can find her practicing yoga, cooking, reading, or traveling.