Can you be in the best shape of your life in your 30s and 40s?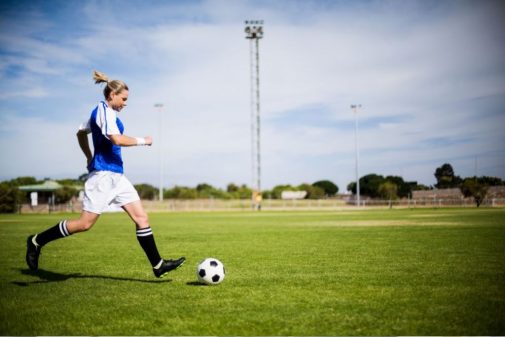 As the world watches the U.S. Women's National Team dominate in the first round of the Women's World Cup, star forward Carli Lloyd stands out.
She not only scored two goals in Sunday's 3-0 victory over Chile, but she also is the veteran on the team at 36 years old. Lloyd's stamina and tenacity is enthralling to watch, and she's been quoted recently saying she's never been in better shape.
That goes against conventional wisdom that tells us our bodies are at their best in our teens and 20s. There are other examples of athletes thriving closer to middle age, like baseball's Nolan Ryan and football's Brett Favre.
But what about everyone else? Is it possible for the average non-athlete to also see peak physical fitness as they enter middle age?
Dr. Gregory Caronis, an orthopedic surgeon based at Advocate Condell Medical Center in Libertyville, Ill., says you can be in your best shape in your 30s and 40s, especially if you choose to become what he calls an "active manager" of your health.
Dr. Caronis says athletes such as Lloyd, Ryan and Favre likely realized that they needed to work harder in the gym and the kitchen to keep their bodies in peak shape in order to keep up with their younger teammates and hang on to the glory. It's that commitment, discipline and motivation that helps them stand out from their younger teammates who might not have to work as hard.
"As we age, we have to take more of an active role and measured steps toward being healthy," Dr. Caronis says. "Exercise and nutrition may require a new level of discipline, but being in your best shape physically in your 30s and beyond can absolutely be the case with one key component: commitment."
Dr. Caronis says middle-aged people often leave behind bad lifestyle choices such as excessive drinking, smoking and lack of sleep. Instead, they often focus on being around for their children and their future.
The average person may not have the same access to trainers and nutritionists that star athletes do, so it can help to surround yourself with people who are similarly motivated, Dr. Caronis says. Taking group fitness classes, signing up to train for a race or simply joining a gym with a friend can increase your chances of getting in your best physical shape, he says.
"If you commit to certain healthy behaviors and surround yourself with people who are motivated to do the same, getting in shape becomes a lot more attainable," Dr. Caronis says. "This adds an accountability factor in knowing you have to 'own' your future and your health."
Dr. Caronis says he, too, has to commit to his physical fitness, so he works out five to six times a week at a gym located where he works. The convenience factor helps physical activity stay a habit he can keep, he says.
"I chose to use the Centre Club Fitness Center at Condell so it's easy and convenient for me to get there," he says. "I now notice that, if I don't get a workout in a few times a week, my stress level can creep up. For me, physical fitness is now every bit a part of my routine as getting good sleep and having a cup of coffee in the morning. It has to be a commitment and part of your lifestyle."
Are you trying to get into shape? Taking a free, quick online assessment to learn more about your ideal weight by clicking here.
Related Posts
Comments
About the Author
Bridget Kozlowski, health enews contributor, is a public affairs manager with Advocate Aurora Health. She holds a masters degree in Public Affairs and a bachelor's degree in journalism, both from the University of Missouri. Bridget previously worked as a reporter for the Chicago Tribune and has also lead local government communications teams for both the City of Sterling Heights, Michigan and the Village of Lombard, Ill. Bridget loves trying new restaurants, traveling and spending as much time as possible with her son, husband and rescue mutt.