From the NICU to the baseball field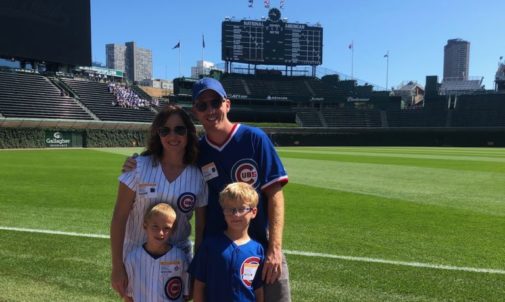 When Jorie Burtnette became pregnant seven years ago, she and her husband Scott were ecstatic. After three unsuccessful IVF treatments, Jorie became pregnant with twin boys and was enjoying an uneventful pregnancy — until she hit week 30 of her pregnancy.
"I remember I went into labor and immediately went to Advocate Good Samaritan Hospital," Jorie recalls. "It was at that point that we were introduced to the labor and delivery and the neonatal intensive care unit staff."
Little did Jorie and Scott know just how well they would come to know the NICU staff. After Jorie gave birth to her sons — Landon and Carson — the Advocate Good Samaritan team, led by neonatologist Dr. Vibhaben Thaker, immediately sprang into action to bring the boys into the NICU, where premature babies are closely monitored to ensure they are safe and healthy until they're ready to go home.
"Our Level 3 NICU at Advocate Good Samaritan provides the highest level of care to the most complex and premature babies," says Dr. Thaker. "Our highly experienced and board-certified staff of nurses and providers takes care of, not just babies, but the family as a whole. As a result, when the baby is ready to go home, not only is the baby healthy, but the parents feel emotional healing, strength and confidence when continuing the care of the child at home."
Landon and Carson seemed to be doing fine, until about a week in the NICU. Over the course of the next few months, Landon was diagnosed with necrotizing enterocolitis, the leading cause of death in preemies, sepsis and a stricture in his colon. Though he was given a 50% chance of survival, Advocate Good Samaritan's team of experts worked closely together to swiftly treat Landon's every illness. Finally, after 100 days in the NICU and several surgical treatments, including the placement and removal of a colostomy bag, Landon joined his brother and parents at home.
Even seven years after this stressful experience, Jorie remembers the compassionate expertise she and her husband witnessed at Advocate Good Samaritan. One particularly vivid memory involved the NICU team who went above and beyond their normal scope of responsibilities to help the family plan a baptism for Landon and Carson in the NICU during their stay.
"It was a scary and stressful experience having Carson and Landon in the NICU, but I want to use our family's story as a way to educate others on the importance of NICUs and to shine a light on what the Advocate Good Samaritan NICU did for us," Jorie says. "To this day, we still consider them part of our family."
Nowadays, Landon and Carson are thriving seven-year-old boys with distinct personalities, but where their passions really intersect is baseball. The Burtnettes are a Chicago Cubs-loving family, after all, and even took the twins to Wrigley Field before they turned one to do a tour of the field.
Recently, Landon and Carson were invited by the Chicago Cubs and Advocate Health Care to serve as Honorary Bat Kids, viewing batting practice and chatting with Cubs players prior to a home game against the Washington Nationals.
Related Posts
Comments
About the Author
Jaimie Oh, health enews contributor, is regional manager of public affairs and marketing at Advocate Health Care. She earned her Bachelor's Degree in Journalism from the University of Missouri-Columbia and has nearly a decade of experience working in publishing, strategic communications and marketing. Outside of work, Jaimie trains for marathons with the goal of running 50 races before she turns 50 years old.